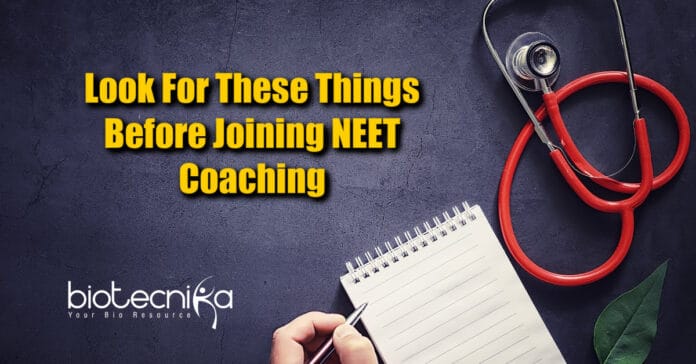 How To Select Best NEET Coaching – Which NEET Coaching To Join
Not sure how to find the best NEET coaching institute? Need Answer to How to select the best NEET Coaching? Every NEET aspirant aspires to be a part of the elite coaching centers. Choosing the best NEET coaching institute from numerous NEET coaching institutes can be incredibly hard.
The NEET exam is one of India's most challenging and competitive exams, with students having to pass the exam by competing against the brightest of brightest. It is natural to tread cautiously when selecting a coaching institution for NEET preparation. It is no easy task with thousands of students taking the prestigious medical entrance exam, as it needs continuous desire and a strong supportive network and family.
Deciding which coaching institute to join is not as simple as it appears. It is not as simple as paying the fee and enrolling in a coaching center, as this will be counterproductive, and you'd be remorseful for squandering the expense as well as your time, effort, and energy.
Numerous coaching institutes claim to be the best, and this article will assist you in selecting the best NEET coaching institute.
Here are a few things to look for before joining a NEET coaching institute.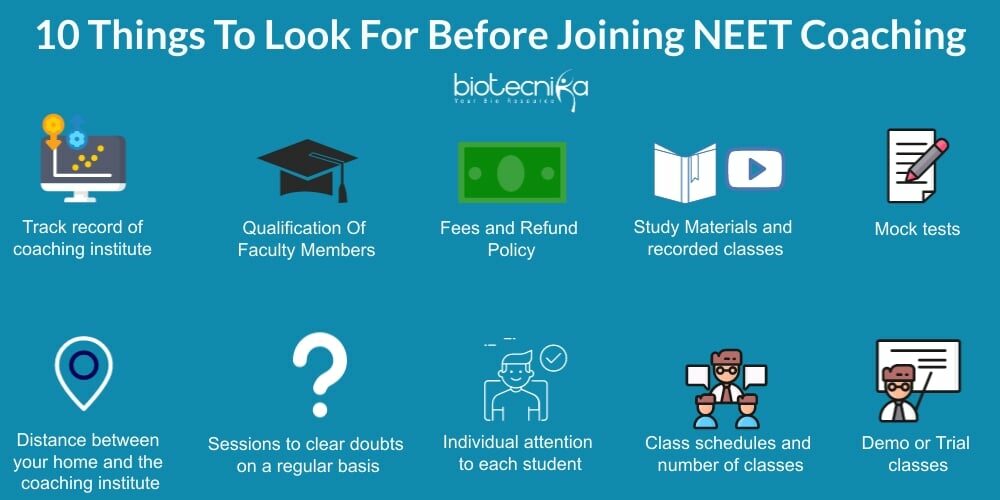 The performance history of the NEET Coaching Institute
The first point that comes under How To Select the Best NEET Coaching – is the track record. The track record of a coaching institute is the most crucial factor to consider before enrolling in one. Past achievements will help you understand the institute's notoriety while also informing you of the actual work the institute has put in to achieve those positive outcomes.
Here are a few things to keep an eye on – how many students registered for NEET coaching in that particular institute, how many were successful, what percentage of students achieved top rankings, and how many were admitted to top colleges.
NEET Coaching institutes with decades of expertise have a distinct advantage. You should know how old a coaching center is and how proficient it is at reshaping average students into exceptional ones and fostering geniuses in the right way.
Consider the following factors when assessing a coaching institute's track record:
Feedback from Students – Try to get feedback from students who have attended the coaching institute. You might even get some Google reviews. Refer to the testimonials and, if possible, speak with students about the institute's facilities and quality of education.
NEET Success Rate – Verify the coaching institute's past NEET exam success rate. This will help you know what efforts and resources will be made available to you to achieve your objectives. The number of students with high NEET scores and All India Ranks from that particular institute can be used to evaluate an institution's merit. The number of students admitted to India's top colleges demonstrates how well the institution performs. Based on this data, you can select the coaching institute.
2. Qualification Of NEET Faculty Members
This is yet another critical thing to consider when selecting a coaching institute. Teachers are the ones who guide students as they prepare for NEET. A good teacher has the ability to turn a mediocre student into a genius.
Solicit a list of the faculty's lecturers/professors and their credentials.
A good coaching institute will have highly qualified instructors who will help students improve their skills and clear their doubts while keeping them motivated and on track. They also train students to answer questions quickly and accurately to get the highest possible grade. It is always a plus to have teachers who have passed such competitive exams at some point in their careers.
3. Fees and Refund Policy at the NEET Coaching Center (Online / Offline)
Fees – There is no doubt that quality comes at a cost. Coaching center fees vary greatly because many are new and are in the early stages of establishing themselves, whereas others are well established. Tuition fees should be proportionate to the level of coaching provided. Compare and contrast the fee structures of various coaching institutes to ensure that you are getting the best value for your money.
Seek clarification on whether you must pay the entire amount at once or in installments and whether you will receive a discount if you pay the whole amount at once. Choose the option that best fits you.
Refund Policy – When choosing a coaching institute, keep the refund policy in mind, as many students drop out of the coaching institute just after a few days/weeks of attending classes due to dissatisfaction with the classes offered or other personal reasons, so a refund policy must be prioritized.
4. NEET Study Materials and Recorded classes
Coaching institutes generally provide theoretical study material in the form of study modules, which are topped up by many solved and unsolved problems. You should collect some prelim data on the quality of such modules. The best modules include a wide range of problems of different difficulty levels. Also, ask a few questions about the institute's library of supporting books and whether you will be able to use it for free.
Inquire whether or not you will have access to video recordings of the classes taken. Recorded classes will be beneficial if you miss a class or need to get a head start on any topics.
5. NEET Mock tests
Mock tests are an additional important consideration when enrolling in a coaching institute. Coaching institutes use a variety of methods to assess their students' performance. They administer tests weekly or monthly to determine a candidate's ability to perform in a time-limited, difficult test. Make an effort to learn about their entire performance monitoring system. Inquire whether there are separate motivational classes held to improve performance and confidence.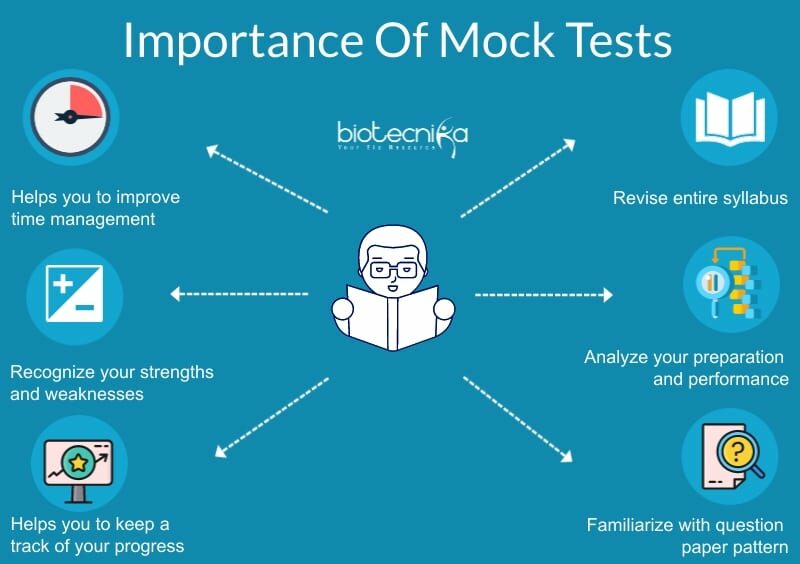 Taking tests will give you enough practice to solve the questions on your own, and once you've finished, you can analyze yourself to determine your strengths and weaknesses. You can also overcome your exam phobia in this manner!
6. The distance between your place of residence and the NEET coaching institute
When choosing any coaching institute, a candidate's perception of the distance between home and the coaching center is critical. If the coaching institute is very far away from your home, you will spend a substantial amount of time traveling, which will exhaust you.
When making your decision, consider the total travel time to and from the institute. Consider the institute's distance and the available modes of transportation before making your decision. Due to the extended travel timings, many students in cities turn to online coaching. And few students prefer taking coaching from a nearby location to save time and devote more time to their studies. Check that the travel time isn't prohibitively expensive or inconvenient. An institution that provides the best NEET coaching classes and is also close to your location will help you concentrate more by preventing time waste.
7. Sessions to clear NEET doubts on a regular basis
A very important point that comes under – Is how To Select the Best NEET Coaching. Before joining NEET coaching check if there is the availability of special sessions to clarify all your doubts. If you study and practice diligently, doubts will undoubtedly arise. As a result, simply learning and practicing isn't enough. You must investigate your errors and seek clarification from the faculty. Check with the institutes to see if they hold regular question and answer sessions or doubt clearing sessions.
The institute should regularly conduct doubt-clearing sessions to ensure effective learning. Doubts, if addressed promptly, will lead to a successful endeavor. Coaching institutes go out of their way to address any issues or concerns raised by students. However, due to a lack of time and a large number of students, coaching institutes may be unable to respond to all the questions raised by the students. Separate doubt-clearing sessions or providing 24*7 mentor assistance to clarify all doubts and problems can thus be extremely beneficial.
8. Individual attention to each student
Every student sees the world in his or her way. While most things are easy to understand, some concepts and theories require more thought. Personal attention should be given to students as needed while studying, as this will improve concept absorption. A good coaching institute will make certain that students who are having difficulty understanding certain sections receive individual assistance.
9. NEET Class schedules and number of classes
The timing of classes is also an important consideration when deciding whether or not to enroll in a coaching institute. Classes should be scheduled at times that are convenient for you so that you can also study at home.
Some students prefer classes on weekends, while others prefer classes on alternate weekdays. So, before enrolling in a coaching institute, make sure that the timings suit you, and you get enough time to study at home as well.
Also, find out how many classes they offer per week and if there are any weekend classes available. Choose the one that is most appropriate for you.
10. NEET Demo or Trial classes
Last but never least – Ask for a trial or demo class from the faculty so that you can understand their presentation; if you find it difficult to understand what they are attempting to teach, seek out another teacher. It is always recommended that you take a demo class in the classroom or online before enrolling in any institution. This will allow you to select the best coaching institute for you.
A good coaching institute will generally provide students with demo/trial classes. Take a demo class at each of your shortlisted institutes, evaluate the teaching quality, and then decide which institute to join.
Conclusion
We hope you found an answer to the question – How To Select the Best NEET Coaching? Every year, many students aspire to pass the prestigious NEET exam. NEET aspirants and their parents are determined to leave no stone unturned in their preparation to crack this exam. This exam is extremely difficult and competitive, and most candidates choose to enroll in coaching, which makes the selection of the right coaching institute critical.
When selecting a coaching institute, the aforementioned factors are the most important considerations for students and their parents. After you've considered all of these factors, you can enroll in a coaching institute that suits you the best.
For further reading:
Check out life science and chemistry news and jobs opportunities at BioTecNika and Rasayanika.
---
How To Select the Best NEET Coaching, Things To Look For Before Joining NEET Coaching; 10 Things To Look For Before Joining NEET Coaching