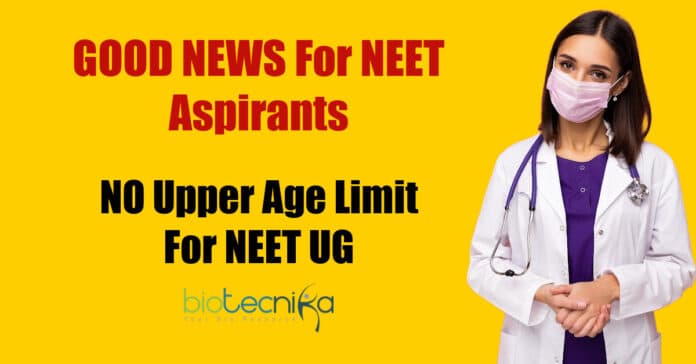 NO Upper Age Limit For NEET
The National Medical Commission, India's highest administrative body of medical education, has declared that the upper age limit for applying for the undergraduate medical entrance examination, NEET-UG, has been excluded for all applicants. The general category's age limit was initially 25 years, and the reserved categories' age limit was 30 years.
Dr. Pulkesh Kumar, Secretary of the Commission, took the decision at the 4th National Medical Commission meeting in October 2021.
Dr. Kumar has asked the NTA to remove the upper age limit prerequisites from the NEET UG information bulletin in a note addressed to the NTA.
Dr. Kumar stated that at the 4th National Medical Commission meeting, it was determined that there should be no predetermined maximum age limit for students who wish to appear in the NEET UG exam. Hence, the information bulletin will be revised.
Mansukh Mandaviya, Minister of Health and Family Welfare, tweeted that the NMC had abolished the fixed upper age limit for taking the NEET-UG exam. The judgment will greatly benefit aspiring doctors and make a contribution to the country's medical education.
Good news for the aspirants of NEET-UG!

The National Medical Commission removes the fixed upper age limit for appearing in the NEET-UG examination.

The decision will immensely benefit aspiring doctors and further help in strengthening medical education in the country.

— Office of Dr Mansukh Mandaviya (@OfficeOf_MM) March 9, 2022
Dr. Pulkesh Kumar, Secretary, National Medical Commission, stated in a March 9 communication to Dr. Devvrat, Office of Senior Director, National Testing Agency, that the procedure for authorized notice to revise the Regulations on Graduate Medical Education appropriately, 1997 to this effect has been started.
NEET is India's sole entrance exam for medicine, dentistry, and certain other allied courses. Each year, approximately 15 lakh students take the exam.
The exam was conducted on September 2021. The NTA is yet to release the exam schedule for NEET 2022.
The exam is also used for enrolling students into BSc Nursing and BSc Health Sciences courses since 2021.
20 Tips To Overcome NEET Exam Phobia – Beat The Fear & Succeed
Check out life science and chemistry news and jobs opportunities at BioTecNika and Rasayanika.