NEET Exam Revision Tips – Ace Your Medical Entrance With These Tips
How To Revise For NEET Exam?
NEET is the most important hurdle for any student aspiring to be a doctor. Cracking NEET requires a great deal of dedication, hard work, and willpower. NEET is the most paramount and the only medical entrance exam for undergraduate courses. The most significant facet of NEET preparation is revision. An ingenious NEET revision method will save you time and increase your self-confidence for the exam. This is why we felt the need to elaborate on NEET Exam Revision Tips.
Aspirants should be aware that NEET revision is a significant element of their preparation. Candidates can quickly assess their NEET preparation and focus on the portions they need to work on in order to succeed.
It makes no difference how many times you go over the entire syllabus before the exam. What is important is that you thoroughly revise the syllabus without wasting any time.
Each revision should be completed thoroughly, and no topic should be overlooked.
Revising for around 5-6 times would be ideal, and it's not impossible if the students stick to a strict timetable and give tests on a regular basis.
Don't waste time going over the entire syllabus again and again. Revise the whole syllabus once, then solve NEET mock tests or previous years' papers. This will enable the candidate to recognize the weak and strong points and revise accordingly. Here are some pointers on how to plan your NEET revision, which will help you prepare for the NEET final exam. This article will go over everything you need to know about NEET Exam Revision Tips.
NEET Exam Revision Tips – NEET Subject-by-Subject Revision Strategy 
How To Revise Physics For NEET Exam? 
Make your own formula notebook and use it to revise your formulas.
Solve those questions that you were not able to answer in one sitting the last time.
When answering questions, always mark them as per their difficulty level and the number of attempts you made to answer them so that the next time you only answer the questions you weren't able to answer the first time.
Take mock tests and solve sample and previous year question papers.
Get all of your doubts clarified by experts, teachers, or friends.
Don't squander your time on the phone or social media.
Go through all of the equations, formulas, and graphs.
Practice numerical exercises.
How To Revise Chemistry For NEET Exam? 
Go through equations, chemical formulas of important reagents, and products of the chemical reactions, organic reactions, and the mechanisms.
Revise organic and inorganic reactions from flashcards.
Practice numerical exercises.
Studying from multiple sources will only confuse the student; therefore, don't go for various sources.
Practice as many questions as possible.
Practicing previous year's question papers will give you a good idea of what to expect on the NEET Chemistry exam.
How To Revise Biology For NEET Exam? 
Revise the theory part and delve deeper into concepts, diagrams, and tables from NCERT books thoroughly.
Try explaining diagrams and concepts to yourself; you'll remember the information much better this way.
Learn all the examples of animal kingdoms, animal tissues, plant kingdoms, plant anatomy, and plant morphology.
Practice pedigree analysis.
Go through the highlighted points from your notes.
Revise the various genetic combinations for dihybrid crosses and the process of the central dogma.
Practice NCERT-based questions as much as possible.
Revise all of the diagrams and tables in NCERT.
Go through all the tough biological terms and their explanations.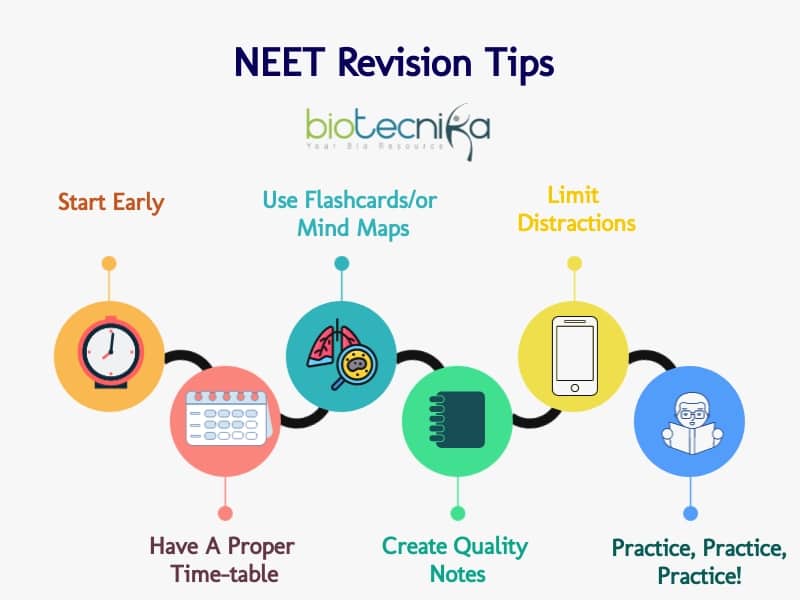 NEET revision strategies – How To Revise For The NEET Exam And Ace It.
Plan a Revision Strategy
A good study strategy is always beneficial. Create a revision chart with a proper timetable. Increase your time spent on weak areas. Only use authenticated sources. Make notes early on and thoroughly study the snippets at the revision level. Good planning can help you achieve your objectives more effectively.
2. Make a schedule that works for you.
With only a few days until the exam, you must have a lot on your mind all the time. The list of formulae, equations, diagrams, question banks, mock papers, and so on is seemingly endless. However, don't take stress by taking more than you can handle. Develop a practical study plan and adhere to it. Make sure to take timely breaks and monitor your revision progress.
3. Revise in a systematic manner
Candidates should plan their NEET preparation on a daily basis and act accordingly. It should be noted that learning NEET concepts necessitates self-discipline and a well-organized daily routine. Adhere to the NEET revision schedule outlined below for increasing your success rate.
Begin your day early to ensure that you have enough time to finish your syllabus, but don't stress yourself and keep a note of your productive hours.
A well-balanced breakfast is essential.
Always take a 10-minute break after studying for 2 hours.
Engage in some little physical activity to improve circulation throughout your body.
Revise for at least half an hour.
Have a light meal for dinner.
Rest and sleep well.
4. Break the revision session down into a series of small steps.
Concentration is essential when preparing for major entrance exams like NEET. Students should break down their revision sessions into small chains based on their concentration level, and it's recommended to take some small breaks between them. Taking a break between NEET revision hours relaxes aspirants mentally and improves their concentration strength for revision.
5. Determine your productive hours
Identify your productive hours and schedule your timetable accordingly. Students must act in accordance with their preferences, as this increases productivity and help them in preparing for the NEET exam. Ensure that they are completely focused and concentrated on efficient revision.
6. Increase your scoring potential
Every aspirant should recognize their weak and strong areas. Create a strategic plan to strengthen the weak areas and revise all of the strong areas in order to maximize your scoring potential.
7. Boost your speed and accuracy
As the NEET exam has negative markings for each incorrect answer, students must maintain their accuracy levels. Take practice tests and keep a stopwatch handy to keep track of time. Ascertain how much time you spend on each section and work to improve your speed.
8. Try to revise from own made notes
Try to revise NEET concepts from your own handwritten notes. You must thoroughly study the theories and concepts in order to prepare NEET notes. You can easily memorize the complex concepts while revising from your own notes. Own-made notes are more specific and easily understandable because it is created solely by you. It is advised to read the NEET revision notes thoroughly and, if necessary, go over the theory portion of that theory part.
9. Concentrate on the NCERT concept of NEET
Revising the syllabus from the NCERT book is critical when preparing for the NEET. Candidates should be aware that the NEET question papers will be based on NCERT concepts. Focus on all the important NCERT keynotes and diagrams because they are simple to understand and highly beneficial.
10. Focus on the most important areas
Although it is hard to conclude what is important and what is not. Compile a list of the most important topics. Important topics must be thoroughly studied in order to receive high marks.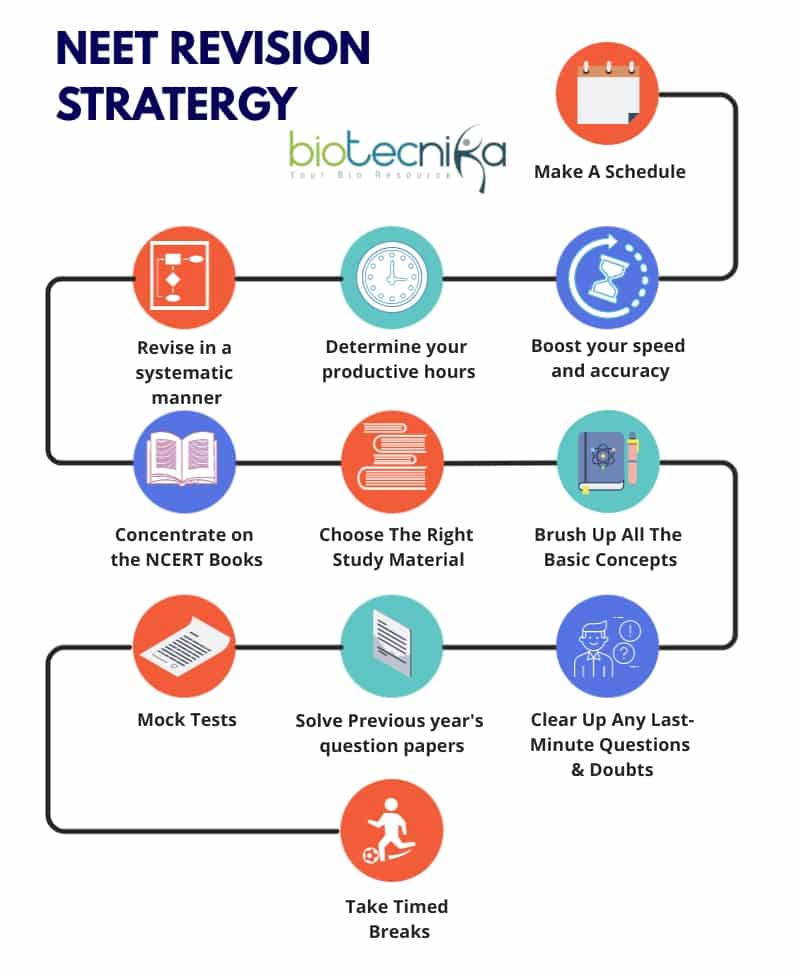 11. Mind-Diagrams can be helpful 
Biology is a major subject in the NEET syllabus, so it is critical to study it. Mind mapping is an excellent way to learn Biology. This method makes extensive use of diagrams rather than sentences. It is an excellent tool for improving retention.
12. Brush Up All The Basic Concepts
Once you have a firm grasp on the Important NEET Chapters and concepts, you will be ready to move on to the next step, which is to apply them. Students must focus primarily on graphs, flow charts, and diagrams. Use a whiteboard/chart paper, jot down all of the important formulas, theorems, and flowcharts for last-minute revision.
13. Choose The Right Study Material
If you check the previous year's NEET question papers, nearly 80–90% of the questions are from NCERT books. Along with the study plan, it is critical to have the appropriate books. The NCERT Class 11 and 12 books must be mastered. Students must also refer to the best NEET books for efficient preparation, and it is advised that you adhere to them thoroughly rather than referring to more high-level books.
14. Improve your time management skills 
The revision strategy for NEET also necessitates candidates to practice the concept regularly to improve time management. Practicing daily helps in improving time management. Also, practicing regularly helps you easily understand the NEET exam pattern, question-level, and many other aspects. Students can use mock tests, join test series of NEET exams, practice from previous years' question papers, or sample papers to practice more and more NEET questions.
15. Check the status of your NEET preparation!
Evaluation of NEET preparation is critical. Candidates can gauge their progress in their preparation by revising and attempting NEET mock questions. In this way, candidates can easily learn which sections they need to focus on for better NEET preparation. Candidates will benefit greatly from keeping a close eye on NEET preparation.
16. Mock Tests
During the final month of NEET preparation, devote at least 3-4 hours per day to solve mock tests. It is not necessary to take a full mock test every day because it can be exhausting. You can take about 3 complete mock tests weekly. You can take subject-specific tests on other days. Remember that it is critical to give mock tests in order to prepare for the NEET. They will help you get into the habit of answering questions and improving your speed, which will benefit you on exam day. As the exam structure has changed, you must take the mock tests in the new exam structure.
17. Learn From Your Mistakes
Just solving the mock tests is not enough. After taking the mock tests, you must analyze the areas in which you need improvement. This will also help in deciding on your NEET exam strategy. Devote another couple of hours in analyzing the errors causing you to lose marks. Pay close attention to the questions you couldn't answer in the mock test. This will ensure that you do not repeat similar mistakes on the day of the examination.
18. Solve Previous year's question papers
According to experts, many questions from important topics have been asked over the last 5 years. Aspirants should solve as many NEET previous year question papers as possible because some questions have been asked repeatedly.
19. Learn formulas consistently
NEET syllabus contains many numerical questions. The best way to prepare for the numerical section is to memorize the formulas by creating some short-hand versions. This will not only help you in the revision of formulas, but it will also aid in attempting the concept-based questions.
20. Examine your exam-taking strategy
Aspirants should have a strong and dependable exam-taking strategy in the final few days before the exam. There is a fine line between preparation and performance in the examination. Candidates may be well-prepared for the exam and have answers to most of the questions; however, managing time during the exam will be challenging if they do not have a pre-determined strategy for which section to attempt first, selecting the right questions, and so on.
21. Avoid referring to any new book or new topic at the last moment
It is advised not to begin a new topic or read a new book for preparation during the last few days. In any case, by this point, students should have read through all of the best books and resources available. If you start any new topic or textbook at the last moment, you will waste valuable time that could have been spent in more productive ways.
22. Practice Practice & Practice
Don't just mug up everything; try as many questions as you can to become acquainted with the pattern. There are many sample papers available online and online for students to practice and prepare. Go for question banks and mock test series for better preparation.
23. Clear Up Any Last-Minute Questions & Doubts
If you have any doubts or questions, ask your mentors, teachers, or friends for assistance. You must enter the exam room without a single doubt in your mind. So, make the most of the time you have to get all of your questions answered.
Aside from eating a healthy diet, staying active and de-stressing are also important factors in NEET success. Many students fail to pass competitive exams because of their extremely high-stress levels. So, in order to achieve excellent results, make sure you maintain a stress-free and healthy lifestyle.
24. Recreational Activities
Devote an hour or two to activities you enjoy, like sports, painting, watching movies, or listening to music. By breaking up the monotony, you will be able to stay focused on your studies. Try to include this time between revisions and the mock tests.
25. Get Enough Rest and Stay Fit
6-8 of sleep should be definitely included in your agenda. This may appear excessive to some, but it is critical that you get adequate rest before the exam. It is also significant to maintain health during this period of NEET preparation.
The books listed below can be used in the preparation for the NEET.
Subject
Book
Author/Publisher
Access
Biology
Botany
AC Dutta
Objective NCERT at your Fingertips
MTG Editorial Board
GRB Biology Guide for NEET
GR Bathla Publications
Pradeep's A Text Book of Biology
Dr. HN Srivastava, Dr. G Chopra, PS Dhami
NCERT Biology Booster with NCERT Biologics
S. Ansari
Dinesh Objective Biology
K Bhatia, KN Bhatia
Trueman's Objective Biology For NEET
Dr. Goyal, Dr. Tyagi
Chemistry
Organic Chemistry For NEET
MS Chouhan
Textbook of Physical Chemistry
Dr. AS Singh, Dr. OP Tandon
A Guidebook to Mechanism in Organic Chemistry
Peter Sykes
Concise Inorganic Chemistry
JD Lee
Modern Approach to Chemical Calculations
RC Mukherjee
Problems in Inorganic Chemistry
VK Jaiswal
Dinesh Objective Chemistry
Dr. Ravinder Chadha, PN Kapil
Modern ABC Chemistry for Class 11
SP Jauhar
Modern ABC Chemistry for Class 12
SP Jauhar
Physics
Concepts of Physics Vol 1 & 2
HC Verma
Fundamentals of Physics
Halliday/Resnik/Waker
The Feynman Lectures On Physics
Sands, Leighton, Feynman
Problems In General Physics
IE Irodov
Pradeep's Fundamental Physics
KL Gogia, KL Gomber
Objective Physics
DC Pandey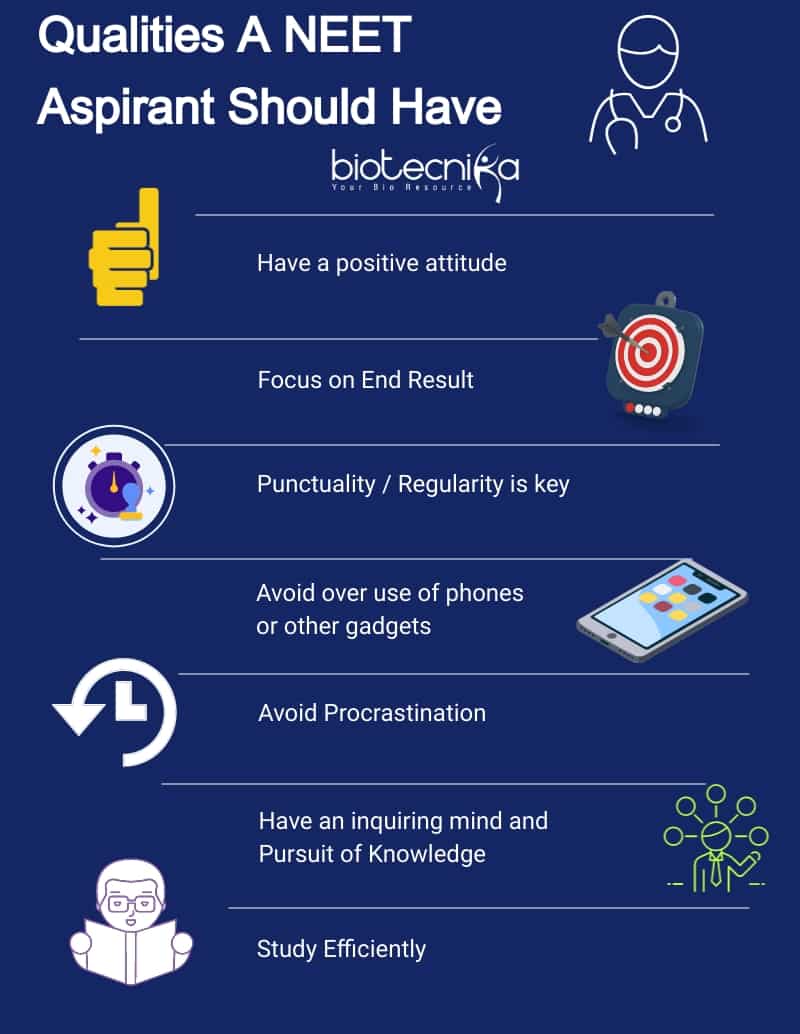 Prepare Successfully With NEET Exam Revision Tips
Understand NEET exam pattern and syllabus
Make a realistic timetable for the NEET exam
Choose the right material for the NEET exam
Prepare a timetable and stick to it
Create a subject-wise plan
Subject-wise Time Allotment
Prepare notes & use unique study codes
Begin from the scratch
Practice regularly
Attempt full-length mock tests
Practice from previous year's paper
Monitor your progress
Make sure to revise regularly
Take enough breaks
Maintain your health
Focus on the concepts
Do not take extreme pressure
Clear Doubts
Highlight important points while studying
Use Charts / Tables / Maps for studying
Improve your Time Management skills
Common Mistakes students make during NEET Preparation 
Being under-confident
Depending too much on mock tests and avoiding analysis
Disregarding NCERT
Lack of planning
Mugging up the answers
Not taking breaks and making no time for hobbies
Not Clearing Doubts Before the NEET Exam
Overstressing
Prioritizing One Subject
Referring to Multiple books
Underestimating Basics
FAQs On NEET Exam Revision Tips 
Question: What is the importance of NEET revision?
Answer: NEET revision is a critical part of preparing and cracking the NEET exam with good marks.
Question: Why is NEET one of the most difficult entrance exams to pass?
Answer: NEET is the single medical entrance exam used to grant admission to undergraduate medical courses.
Question: Why is it important to practice previous year's question papers as part of your NEET revision strategy?
Answer: Aspirants can easily understand the NEET exam pattern, level of the question, and many other factors by practicing previous years' questions.
Question: Which books can aspiring students use to revise their NEET concepts?
Answer: Revising the syllabus from the NCERT book is highly advisable and beneficial, as the NEET question papers are based on NCERT concepts.
Question: What documents should a student carry on the day of the exam?
Answer: Admit card, passport size photo, one photo affixed onto the attendance sheet, original ID proof.
Question: What is the NEET exam pattern?
Biology – 90 questions (Botany and Zoology)
Chemistry – 45 questions
Physics – 45 questions
Question: What is the NEET score required for MBBS admission in India?
Answer: The NEET score required to gain admission to an MBBS program in India is determined by the NEET cut-off. The cut-off varies from year to year.
Question: What is the time duration of the NEET Exam?
Answer: 3 Hours.
Hopefully, these NEET Exam Revision Tips tips will help you revise and ace the NEET exam. Take proper rest, live a healthy lifestyle, use a systematic approach to time management and revision, stick to the study plan religiously, stay calm and focused, and you'll be ready to ace the NEET exam. Best wishes!
Ultimate Guide For Strengthening Weak Areas In NEET Exam
---
Keywords: NEET Exam Revision Tips, How To Revise For NEET Exam? How To Revise For NEET Exam? – Ace Your NEET Exam With These Tips
Author – Sruthi Suresh