What is NEET Exam – Everything You Need To Know
Everything You Need To Know About NEET Exam
Millions of students aspire to be doctors, but only a two – thirds succeed! The doctor's profession allows candidates to enjoy a prestigious social and professional life while also serving a large number of people and earning a good living. If you want to be a doctor, you should start planning and preparing right from your high school. The National Eligibility Entrance Test (NEET) is the first step toward achieving this dream job.
If you are an aspiring NEET candidate, you've come to the right place; your dream in white coats awaits you!. Keep in mind that passing NEET is not simple, but also not that tough.
Only 10 out of 100 students who took the NEET exam were able to find a seat. However, there is no need to worry because we have prepared a comprehensive article on NEET Exam to clear all your doubts and help you crack the exam.
The NEET is the medical entrance exam conducted by NTA. It is a standardized exam for admittance into MBBS/BDS/BAMS/BSMS/BUMS/BHMS and other undergraduate medical courses in approved/recognized Medical/Dental /AYUSH and other colleges/Deemed Universities /Institutes (AIIMS & JIPMER) in India. The examination is generally held in May annually, and it offers more than 1,60,000 seats in medical colleges in India.
NEET-UG took the place of the All India Pre-Medical Test (AIPMT) and a number of other pre-medical exams administered by states and medical schools.
Furthermore, NEET ranks would be the only way to get admission to colleges across India that offer medical courses at the graduate and postgraduate levels.
Pattern and structure of NEET Exam
The exam contains 180 questions, 45 questions each from Physics, Chemistry, Botany, and Zoology, and the maximum mark is 720. The timeframe of the test is 3 hours. The question paper is split into 2 sections: A and B in all 4 subjects. Section A contains 35 mandatory questions, and Section B contains 15 questions, only 10 of which must be answered.
| | |
| --- | --- |
| Exam Mode | Offline mode only |
| Frequency of exam | Once in a year |
| Type of questions | MCQs with 4 options having 1 correct option |
| Duration of Exam | Time duration is 180 minutes (3 hours) |
| Subjects | Biology (Botany & Zoology), Chemistry, and Physics |
| Marking Scheme | 4 marks are awarded for each correct answer. |
| Negative Marking | 1 negative mark for every wrong answer |
| Number of Questions | 180 questions |
Languages of NEET Exam Question Paper
NEET 2021 question papers are available in 13 languages. In addition to English and Hindi, the NEET question papers are available in 11 regional languages including Assamese, Tamil, Kannada, Malayalam, Bengali, Urdu, Marathi, Telugu, Odia, Punjabi, and Gujarati.
Distribution of Marks in NEET Exam
Subject
Section
Number of Questions
Marks
Type of Question
NEET Physics Exam Pattern
A
35
140
MCQ
B
15
40
NEET Chemistry Exam Pattern
A
35
140
B
15
40
Zoology
A
35
140
B
15
40
Botany
A
35
140
B
15
40
Marking Scheme
There is no negative marking for unattempted questions.
It is not possible o change their answers once they have been marked on the NEET OMR sheet.
Candidates are instructed not to attempt multiple answers in the OMR sheet as it will result in a negative mark.
NEET Eligibility Criteria
Indian Citizens, Persons of Indian Origin, Non-resident Indians, Overseas Citizens of India, and foreign nationals are eligible to give the NEET exam. Aspirants who want to study medicine in another country and practice in India will also have to crack the NEET exam.
Academic Qualification

Applicants must have completed 10+2 or equivalent with Biology/Biotechnology, Chemistry, Physics, and English as main subjects from a recognized board.
The applicant must have passed Physics, Chemistry, Biology/Biotechnology, and English separately in the Class 12 board exam, and must have achieved the expected percentage in Biology/Biotechnology, Chemistry, and Physics in the qualifying exam.
The percentage in the 12th class for each category is given below:

Unreserved – 50%,
OBC/SC/ST/Reserved-PH – 40%,
Unreserved- PH – 45%

Age limit

At the time of application, the candidates must be 17 years old.
As the verdict on the upper age limit is still pending, all applicants of all ages are eligible to apply for NEET on a provisional basis.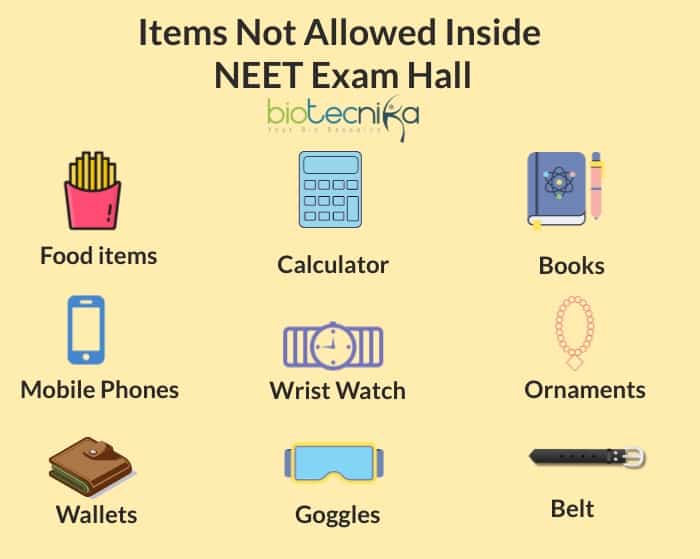 There is no limit to the number of NEET attempts. In 2018, the restrictions on the number of NEET attempts were lifted. Candidates are permitted to take the NEET as many times as they wish. However, they must meet the other NEET eligibility requirements.
The NEET exam syllabus is based on Class 11 and 12 syllabi of CBSE, COBSE, ICSE, NIOS, and state boards. The NEET syllabus includes topics from the Class 11 and 12 curricula in Biology, Chemistry, and Physics. Knowing the NEET syllabus will assist students in preparing for each topic. The NTA's goal with the NEET syllabus is to help candidates understand the topics that will be covered in the NEET exam.
NEET Subject Wise Syllabus
Total Units
Weightage
Biology
Class 11 – 5 Units

Cell Structure and Function
Diversity in Living World
Human physiology
Structural Organisation in Animals and Plants
Plant Physiology

50%
Class 12 – 5 Units

Reproduction
Biology and Human Welfare
Genetics and Evolution
Biotechnology and its Applications
Ecology and Environment

Physics
Class 11 – 10 Units

Physical-world and measurement
Behavior of Perfect Gas and Kinetic Theory
Gravitation
Kinematics
Thermodynamics, Oscillations, and Waves
Work, Energy, and Power
Laws of Motion
Motion of System of Particles and Rigid Body
Properties of Bulk Matter

25%
Class 12 – 11 Units

Atoms and Nuclei
Current Electricity
Electromagnetic Induction and Alternating Currents
Electrostatics
Magnetic Effects of Current and Magnetism
Optics
Electromagnetic Waves
Electronic Devices
Dual Nature of Matter and Radiation

Chemistry
Class 11 – 14 Units

Some Basic Concepts of Chemistry
Structure of Atom
Equilibrium
Hydrocarbons
Classification of Elements and Periodicity in Properties
Hydrogen
Redox Reactions
Organic Chemistry- Some Basic Principles and Techniques
Chemical Bonding and Molecular Structure
s-Block Element (Alkali and Alkaline earth metals)
States of Matter: Gases and Liquids
Some p-Block Elements
Environmental Chemistry
Thermodynamics

25%

Class 12 – 16 Units

Alcohols, Phenols, and Ethers
Aldehydes, Ketones and Carboxylic Acids
Biomolecules, Polymers and Chemistry in Everyday Life
Coordination Compounds
Chemical Kinetics
Solid State
Haloalkanes and Haloarenes
Solutions
Electrochemistry
General Principles and Processes of Isolation of Elements
Organic Compounds Containing Nitrogen
p-Block Elements
d and f Block Elements
Surface Chemistry
Important topics
Following are the subject-wise important topics for the NEET exam as per the earlier trends.
Biology: Biological Classification, Sexual reproduction in Flowering Plants, Principles of Inheritance and Variation, etc.
Chemistry: Alcohol and Ether, Biomolecules and Polymers, Coordination Compound, p, and s-block elements.
Physics: Current Electricity, Ray Optics, Rotational Motion, Thermodynamics, Semiconductors, and Communication System
Question and mark distribution for each subject
Subject
Questions
Marks
Chemistry
45
180
Physics
45
180
Biology
Botany
45
180
Zoology
45
180
Total
180
720
Important Tentative Dates
| | |
| --- | --- |
| Events | Dates 2022 (Tentative) |
| Release of Application | December 2021 |
| End of the application process | January 2022 |
| Correction window opens | February 2022 |
| Availability of Admit card | April 2022 |
| NEET 2021 Exam | May 2022 |
| Availability of Answer key | May 2022 |
| Declaration of Result | June 2022 |
| Starting of Counselling | July 2022 |
Reservations Seats for NEET Exam
NEET reservation criteria refer to the percentage of seats booked for scheduled tribes (ST), scheduled castes (SC), other backward classes (OBC), economically weaker section (EWS), and physically disabled students (PwD) for admittance to MBBS, BDS, and AYUSH courses offered in all medical and dental colleges across India. Candidates who secure good marks and qualify NEET exam will have to attend NEET counseling, which will be based on the reservation criteria specified for different categories.
| | |
| --- | --- |
| Reservation Quota | Percentage of seats allocated |
| All India Quota | 15% |
| State Quota | 85 |
According to the NEET exam reservation criteria, 15% of total seats are granted under the All India Quota (AIQ), while the remaining 85% of seats are held under the state quota. As per the state quota, every state has its own set of criteria that must be followed during the counseling process. Candidates should be aware that the NEET reservations apply to both central/deemed universities and private colleges.
| | |
| --- | --- |
| Categories | Reservation Percentage |
| SC | 15% |
| ST | 7.5% |
| OBC | 27% |
| EWS | 10% |
| PwD | 5% |
NTA NEET Registration Process – General instructions
The application will be made available only in online mode. No facilities for offline application will be offered.
Only one application form per candidate is permitted, and multiple applications from a single candidate will lead to the rejection of the application by the authorities.
Upload the required scanned documents in JPG/JPEG format.
If by any chance, the candidate makes any mistake in adding the information or uploading the documents, you can correct it during the correction period.
Candidates must select any four cities as their preferred examination center.
No need to send the hard copies of the application or other documents to the authorities.
Steps to register and apply for the NEET exam
Step 1 – NTA NEET Registration
Go to the official website http://www.ntaneet.nic.in/ and click on the 'New Registration' link.
Go through the instructions carefully, and then press the 'Apply Online' button.
Enter your Personal Information, Current and Permanent Address, Security PIN, and Choose Password.
Enter your Personal Details, Present Address, Permanent Address, Choose Password, and Security Pin.
Generate the username and password.
Next, you will be redirected to the NEET Application Form.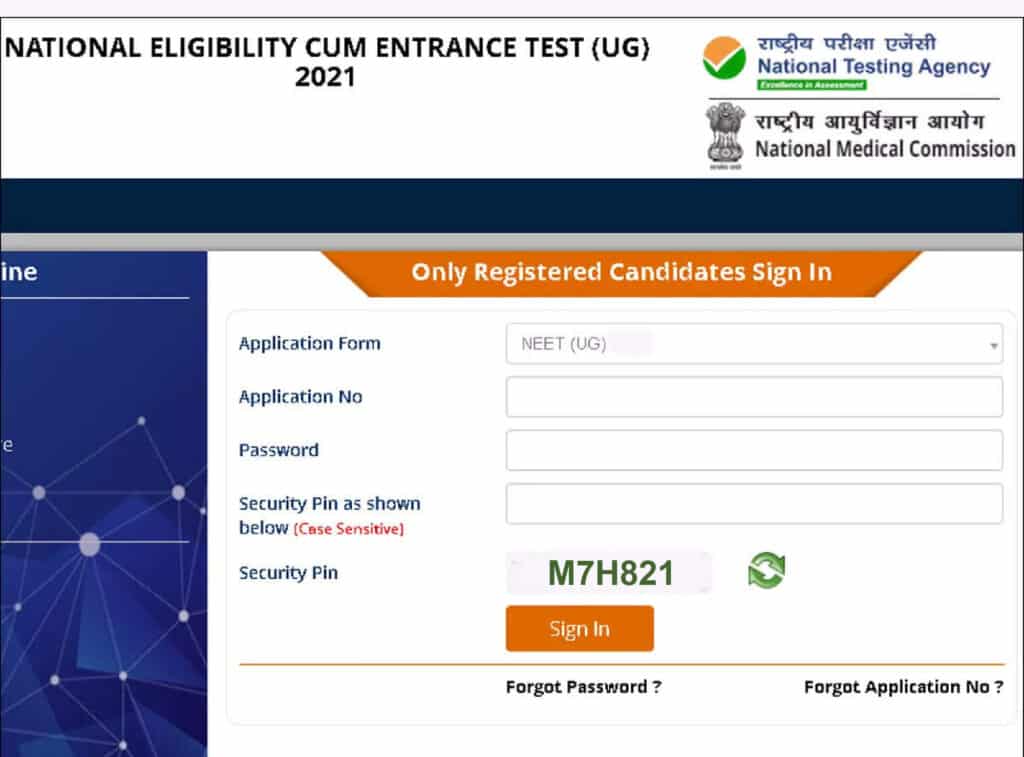 Step 2 – Complete the Online Application Form
Add your personal information.
If applicable, choose to wear traditional clothes not included in the dress code.
Select the question paper medium.
Select any four cities as their preferred examination center.
Add your academic information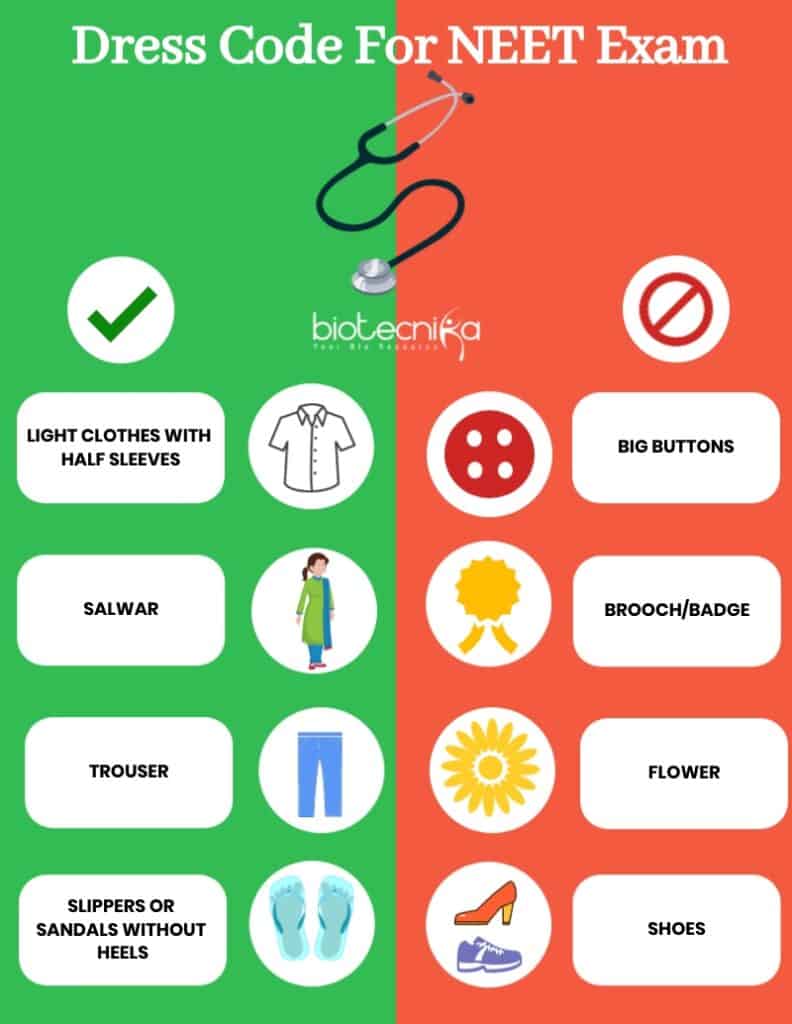 Step 3 – Upload of Scanned Images
Upload the scanned copies of Passport size, Post Card size Photo, Signature, Left-hand thumb impression, and Class 10th Passing Certificate.
Step 4 – Pay the application fee
Pay the application fee using any mode of the online transaction.
Step 5 – Download Confirmation Page
Take a printout of both the NEET Application Form and the confirmation page.

Documents required for registering

Scanned image of passport size photo (10-200 kb).
Image of postcard size photo (50-300 kb).
Scanned image of signature (4-30 kb).
Scanned image of left thumb impression (right-hand thumb impression is applicable only if the left-hand thumb is unavailable) (10-200 kb)
Image of 10th class certificate (100-300 kb).
Admit Card, Answer Key, and Result
All successfully registered candidates will receive their NTA NEET Admit Card. The NEET admit card will have important information such as the exam date, time, and exam center. Applicants must bring the NEET Admit Card, as well as original ID proof, to the exam center on the day of the exam.
Steps to Download NTA NEET Admit Card

Visit the official website.
Click on "Download NEET Admit Card."
Enter your login details.
Download the Admit Card, check your details, and keep it for later reference.
NEET answer key
The NEET answer key will be made available online, where you can check how many questions will have been answered correctly or incorrectly in this exam.
Steps to Download the answer key

Go to the official website of NTA NEET.
Click on the "Candidate Login." Provide your login information.
Once your account opens, you will be able to view the Answer Key for your paper code and download your OMR sheet.
If you find any flaws in the answer key, you can raise a challenge regarding it. However, you need to provide data and pay the complaint fees.
The fee for raising challenges is INR 1000 for provisional answer key challenges and INR 200 for recorded responses challenges.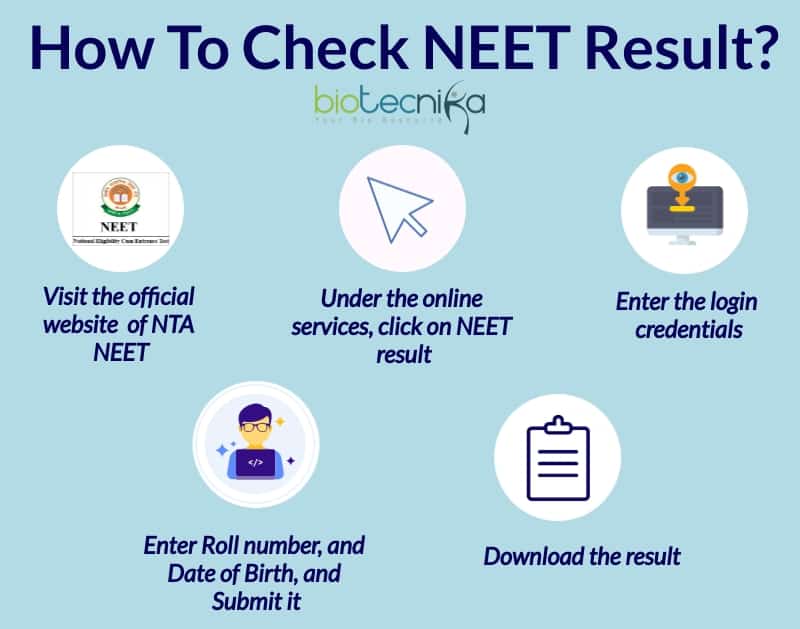 NEET counseling, the national-level counseling undertaken by the DGHS on behalf of the Medical Counselling Committee (MCC), will be held for admission to 15% of AIQ seats. NEET counseling will be conducted online, and participation in the counseling is allowed only after registering on the MCC's official website.
The rest of 85% of undergraduate medical and dental seats will be filled by the respective states. Each state government will handle the counseling process in its own way. However, candidates should be aware, that both state-level and national-level counseling processes will be based solely on the All India Ranks obtained in NEET.
Question: What will be the mode of the NEET exam?
Answer: NEET will only be conducted only in offline mode, i.e. with a pen and paper. NEET OMR sheets will be provided to fill answers, which will be electronically assessed.
Question: Can a candidate take the NEET multiple times?
Answer: There is no limitation to the number of times a candidate may take the NEET. Candidates are permitted to retake the exam any number of times as they want.
Question: Can a student with a gap year between Class 11 and Class 12 enroll for NEET?
Answer: Yes, students with a gap year between Class 11 and Class 12 are eligible to take the NEET UG. As per an amendment made by the MCI, to be eligible to appear for the NEET, a student must complete 2 years of continuous study. However, the Delhi High Court overturned this amendment, allowing aspirants with one year gap to take the NEET.
Question: Can a candidate choose any regional language if he/she is appearing for NEET in some other state?
Answer: No, the NEET exam in regional languages is available only in those particular states, like Kannada in Karnataka, Bengali in West Bengal, etc. So, for writing NEET in any regional language, you must choose the center in that particular state.
Question: Can I cancel my NEET application? Will I be able to get a refund?
Answer: The application form could not be withdrawn or canceled once it is submitted, and the NEET application fee is non-refundable.
Ultimate Guide For Strengthening Weak Areas In NEET Exam
---
Keywords: NEET Exam – Everything You Need To Know About NEET Exam 
Author – Sruthi Suresh