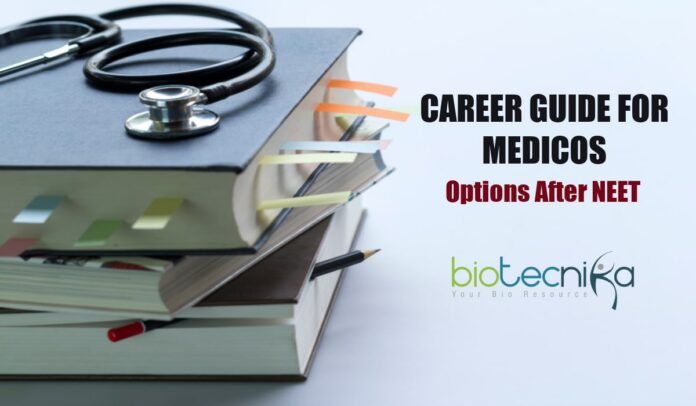 What After NEET? Possible Courses & Careers For Medical Students
A career in the medical field is regarded as one of the reputable professions. The demand for medical professionals is never-ending and has rocketed since the pandemic. Medical aspirants can acquire a medical degree from a well-known institute after their 12th by clearing the NEET (National Entrance cum Eligibility Test) exam. The NEET exam is considered one of the competitive, difficult-to-crack, and most significant gateway examinations for medical candidates. Even though it seem tough initially, there are a plethora of opportunities offered by this national-level exam.
Students who meet the eligibility criteria and clear the NEET exam will be qualified for admissions to undergraduate programs in the medical sector at acknowledged institutes in India and abroad. Numerous applicants appear for the NEET exam annually. What after NEET?- This is a common doubt for all NEET candidates. It is wise to look at various pathways one can choose after clearing the NEET exam.
Even though most of the candidates like to continue in the medical sector, there are many who prefer to take alternate careers after qualifying NEET exam. Applicants have been misled about the career options after the NEET exam. Several believe that there are very few options after NEET, however, this is not the case. This article is the ultimate career guide for NEET students who would like to know all future prospects after cracking the exam. This career guide for NEET explains what students need to do after the exam, after the NEET result declaration, and career paths to choose.
What After NEET? – Right After The Exam
Immediately after the exam, applicants can carry out two crucial tasks
Evaluate and calculate the score for the NEET exam
Predict the rank for the NEET exam
A rough idea of your rank & score in the NEET exam will help in choosing a dental/medical institute for your bachelor's degree in medical science. An approximate score can be computed by assessing your answers with the solutions provided in the answer key. After this, candidates could predict their ranks.
Biotech & Pharma Industry Interview Guide 
What After NEET? – After Declaration Of The NEET Results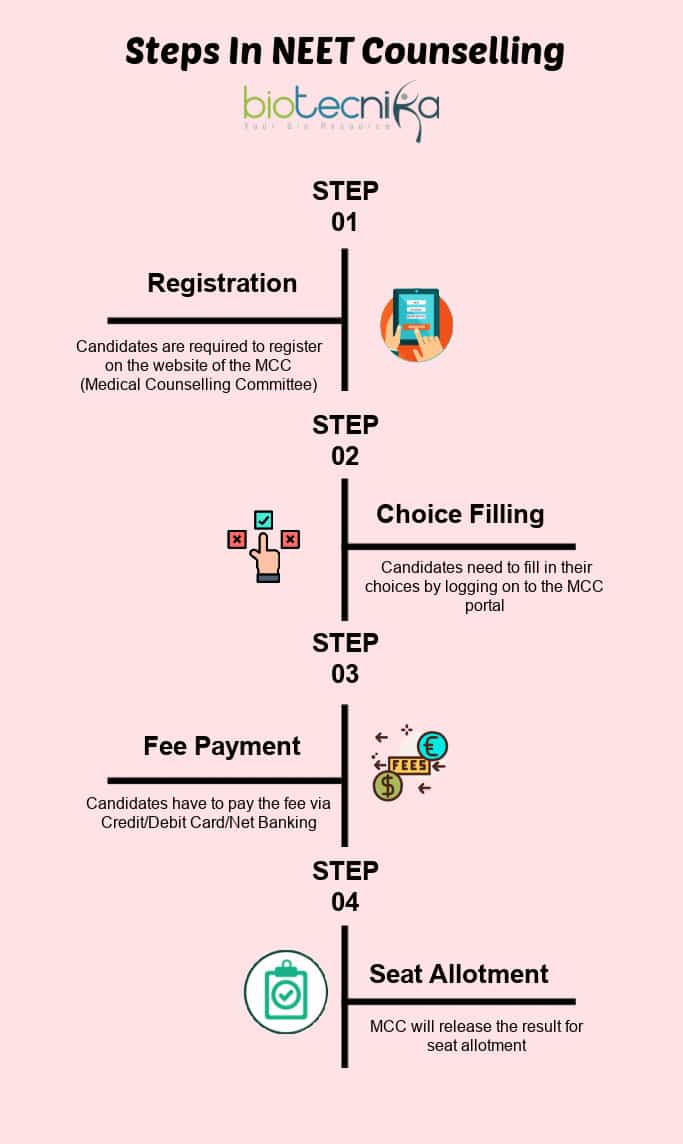 Following the announcement of the NEET exam results, the counselling process for medical science programs commences. In order to become eligible for medical counselling, NEET applicants need to qualify NEET exam with a minimum cut-off or more. NTA (National Testing Agency) announces the counselling dates. Counselling for 15% of AIQ (All-India Quota) seat process is conducted by the DGHS (Directorate General of Health Services) on behalf of the Government of India. The counselling for the rest of the seats is then carried out by state counselling authorities. The table below mentions the types of seats available for candidates who qualify NEET exam.
Seat Type
Counselling Authority
All private colleges in India (except for state quota seats allotted to domiciled applicants)
State Counselling Authority
State quota seats in State government institutes (Only for domiciled applicants)
All seats in central & deemed universities
DGHS
All AIQ seats*
* J&K (Jammu & Kashmir) applicants can't apply for AIQ counseling
Besides these seats, there are other seats like seats in ESIC (Employees State Insurance Corporation) colleges for IP (Insured Person) wards and seats in Pune's AFMC (Armed Forces Medical College). The counseling authority for both these seats is DGHS.
During the counseling, selected candidates need to bring certain documents. These are listed below:
Identity proof (Passport/Driving Licence/PAN/Aadhar)
Online generated provisional allotment letter
8 passport size photographs
Class 10+2 mark sheets
Class 10+2 certificate
Class 10th certificate
Date of birth certificate
NTA issued rank letter/NEET result
NTA issued NEET admit card
Top Career Options in Pharma Industry for Life Sciences Candidates – Must Read
What After NEET? – Career Path For NEET Aspirants
The first thing that pops into your mind while thinking about the NEET exam results is whether you will be able to clear the exam or not. The next important thing is your name on the merit list and your NEET score. Taking everything into account, here are the various career options and scenarios after the NEET result.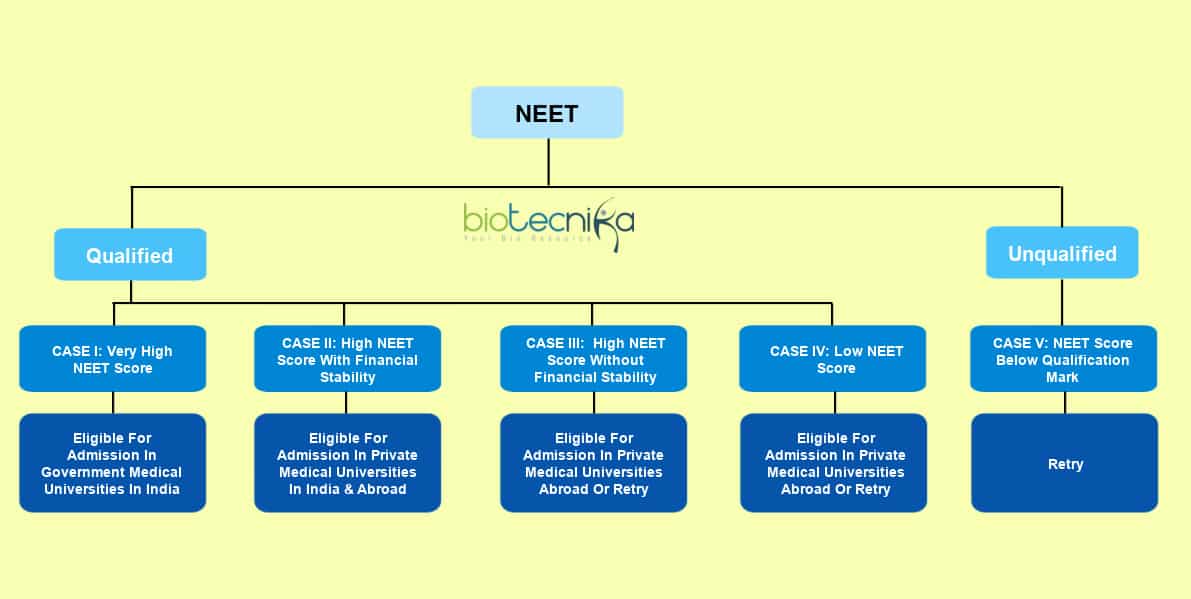 CASE I: This is the best possible case among the five depicted above. NEET aspirants prefer admission to government medical colleges due to the educational quality and reasonable fee structure.
CASE II: In this scenario, students can opt for Indian or international private medical colleges. However, students need to have any kind of financial arrangements like scholarships, education loans, or family finances to pursue their degrees. On the other hand, candidates who choose institutes abroad can acquire relevant exposure and the tag of being an international medical graduate, which can be beneficial for their future.
CASE III: This category involves candidates who are financially weak to get admission to private medical colleges in the country even though they have good NEET scores. The viable option for these students is to either drop a year for NEET re-preparation or choose medical education abroad.
CASE IV: This situation occurs when students don't meet the cut-off for getting a medical seat in India even though they clear the NEET exam. Candidates belonging to this group also can repeat a year or study abroad. Students preferring to earn a foreign degree can look for an MCI (Medical Council of India) approved medical university that best suits their academic expectations, culture, language, and finances. Aspirants have to bear in mind that repetition can cost them a year with no guaranteed NEET results. It is always best to choose a budget-friendly program abroad since the NEET exam competition is soaring each year.
CASE V: The final case is when students fail to get the minimum qualifying score for the NEET exam. Here, candidates need to be patient and remember to not lose hope. This is simply an entrance examination that can be written annually. Moreover, candidates have plenty of alternative options as well.
Let us move on to the different career paths that can be pursued by NEET candidates. It is imperative to know the career path and the course you wish to pursue beforehand. There are diverse options and each has distinct admission requirements.
Candidates belonging to the General category should have at least 50% marks and those from the reserved group must have at least 40% marks along with 12th class qualification. Additionally, it is mandatory for students to take up the PCMB (Physics, Chemistry, Mathematics, and Biology) stream during their higher secondary education.
Undergraduate Courses Under NEET
Duration
BPT (Bachelor of Physiotherapy)
4.5 years
BVSc & AH (Bachelor of Veterinary Science & Animal Husbandry)
5.5 years
BSMS (Bachelor of Siddha Medicine & Surgery)
BUMS (Bachelor of Unani Medicine & Surgery)
BNYS (Bachelor of Naturopathy & Yoga Science)
BHMS (Bachelor of Homeopathic Medicine & Surgery)
BAMS (Bachelor of Ayurvedic Medicine & Surgery)
BDS (Bachelor of Dental Surgery)
MBBS (Bachelor of Medicine & Bachelor of Surgery)
BMLT (Bachelor of Medical Lab Technicians)
4 years
BOT (Bachelor of Occupational Therapy)
4.5 years
BSc (Bachelor of Science) in  Nursing
4 years
BPharma (Bachelor of Pharmacy)
4 years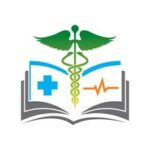 BPT (Bachelor of Physiotherapy)
This course deals with physical therapy or physiotherapy, which is a rehabilitation & physical medicine specialty that uses movements & mechanical forces to promote function, mobility, quality of life through physical intervention, prognosis, diagnosis, and examination as well as to remediate impairments. After BPT, candidates can pursue another 2-year postgraduate course MPT (Master of Physiotherapy). Graduates are employed as physiotherapists at private practices, industries, MNCs (Multi-National Companies), hospitals, and health clinics. Apart from clinical practice, other responsibilities include administration, consultation, education, and research.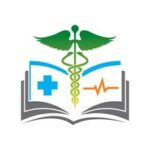 BVSc & AH (Bachelor of Veterinary Science & Animal Husbandry)
Candidates after completing this course can pursue a postgraduate program MVSc (Masters in Veterinary Science) according to their specialization. Students can choose any specialization. Some are livestock economics, veterinary immunology, epidemiology, and veterinary bacteriology. After graduation, they can look for jobs like veterinarian assistant, food inspection specialist, pharmacologist, and veterinary surgeon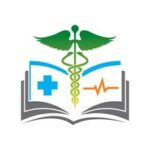 BSMS (Bachelor of Siddha Medicine & Surgery)
This undergraduate course involves the Siddha system of medicine, which is the oldest among Ayush (Homeopathy, Siddha, Unani, Naturopathy, Yoga, and Ayurveda) systems. Students need to undergo a mandatory internship of 1 year in addition to the 4.5 years of classroom learning.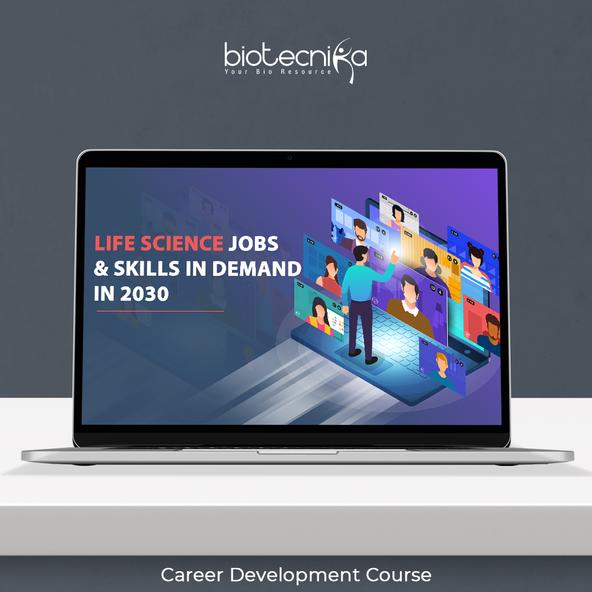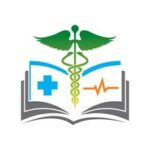 BUMS (Bachelor of Unani Medicine & Surgery)
BUMS is one of the sought-after degrees in the field of Unani. Apart from the academic part, students need to complete a live practical along with a 1-year internship. Students can even go for higher studies in PG Diploma/MS (Master of Surgery)/MD (Doctor of Medicine) courses in the same field. Upon completion of the degree, candidates are recruited as professors, medical assistants, drug inspectors, therapists, pharmacists, consultants, and scientists.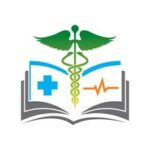 BNYS (Bachelor of Naturopathy & Yoga Science)
BNYS offers specializations such as acupuncture, homeopathic medicine, botanical/herbal medicine, natural childbirth, and nutrition therapy. Students can pursue a career in specialty clinics, neuro-physiology, acupuncture, consultancy, health supervision, therapy, and naturopathy. The coursework covers an integrated study of modern treatment methodology and natural medicine. Besides theory and medical history, the program even involves practical sessions to provide a comprehensive education in yoga and naturopathy.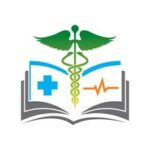 BHMS (Bachelor of Homeopathic Medicine & Surgery)
This undergraduate program deals with education in homeopathy, an alternative medicinal form that has acquired wide popularity in countries abroad as well as India. Even though allopathic medicines are accepted all around the world, homeopathy is preferred for several chronic conditions. Hence, this is an excellent field to make a rewarding career in the future. Homeopathy education is controlled by CCH (Central Council of Homeopathy) in India. Students can pursue further studies like PG Diploma/MS/MD in homeopathy. Graduates are employed as lecturers, teachers, pharmacists, public health specialists, or homeopathic doctors.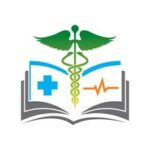 BAMS (Bachelor of Ayurvedic Medicine & Surgery)
This degree involves teaching & studying principles of surgery, ENT, forensic medicine, toxicology, pharmacology, social & preventive medicine, principles of medicine, diagnostic procedures & pathology, physiology, modern anatomy, and so on together with corresponding Ayurvedic subjects like yoga, svasthavritta, dravyuguana, kriya sharira, rachana sharira, and others. This field is practiced and accepted only in India. Therefore, students have a limited career scope. For higher studies, candidates can opt either MD or MS in Ayurveda. Jop opportunities in this domain include panchakarma practitioners, teachers, gynecologists, dieticians, and pharmacists.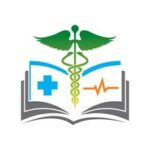 BDS (Bachelor of Dental Surgery) 
After MBBS, this is the most in-demand course for medical students. Candidates can learn about different kinds of treatment like radiology, oral medicine, pedodontics, community dentistry, oral pathology, oral history, dental anatomy, dental materials, surgical procedures, and so on. Students can continue their postgraduation in dental surgery with a specialization. Career prospects for this course comprise dental consultants, dental hygienists, prosthodontists, dental technicians, and dentists.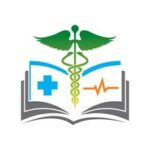 MBBS (Bachelor of Medicine & Bachelor of Surgery)
This is one of the most coveted courses amongst medical students in the country. MBBS admission is carried with a centralized admission process using the medical entrance exam performance and academic merit. After MBBS, candidates can work as physicians & doctors in both private & government hospitals. For higher studies, students can take up a specialization in DNB (Diplomate of National Board), MD, or MS.
Owing to the limitation of medical seats in our country, foreign education has become a lucrative choice for medical aspirants. Annually, there is a rise in students shifting abroad for their studies. Candidates with good scores and financial stability can move to nations like the UK, Canada, the USA, and so on. Those preferring affordable studies can check out education in Bangladesh, Ukraine, China, Russia, Barbados, Guyana, and other budget-friendly countries. Universities approved by MCI provide an excellent opportunity for students to pursue their studies in an affordable way, Graduates can return to India, clear the MCI screening test, and commence their practice.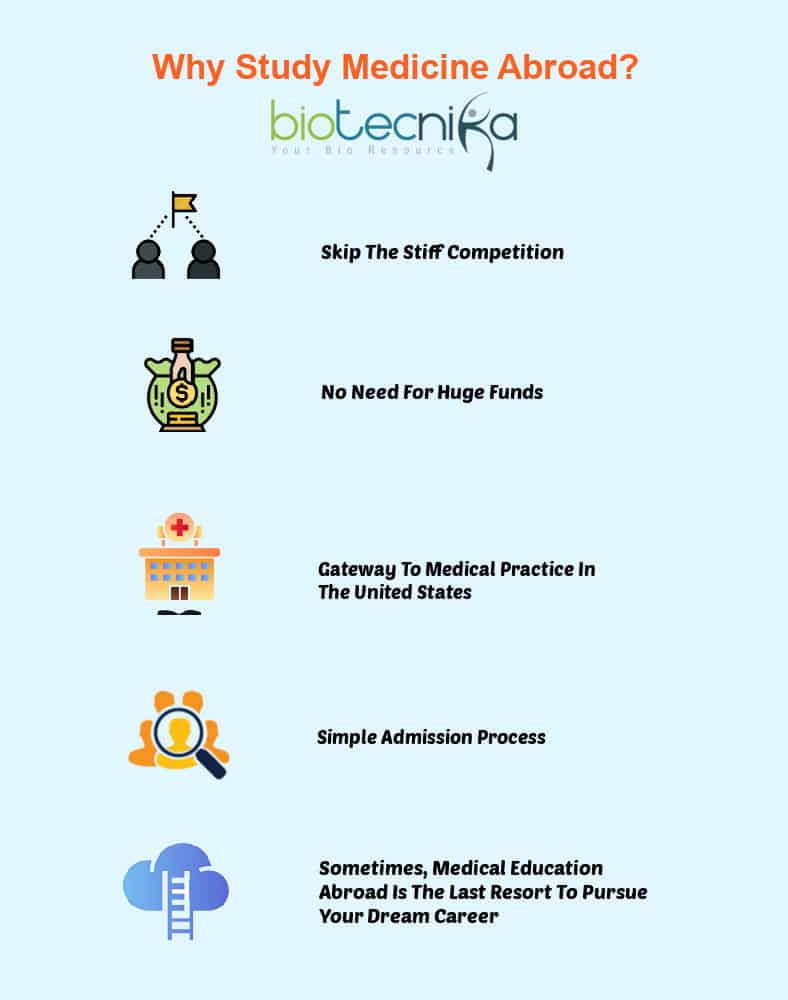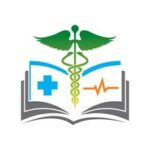 BMLT (Bachelor of Medical Lab Technicians)
This degree intends to give the students relevant skills and expertise to perform routine diagnostic procedures in labs as well as some complex ones. The curriculum comprises instrumentation, management of laboratories, and so on. Candidates after their studies can work as tutors in laboratory medicine graduate programs, consultants (In marketing, sales, quality assurance firms & laboratory medicine industry), supervisors in labs, and lab technologists (At product & research development, public health labs, pharmaceutical labs & hospitals).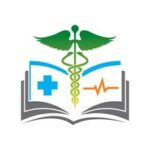 BOT (Bachelor of Occupational Therapy)
BOT involves occupational therapy which is the application of intervention & assessment to maintain, recover, or develop meaningful communities, groups, individuals, occupations, or activities. Graduate work as occupational therapists who mostly deal with individuals having impairments, injuries, or disabilities. This method of treatment is employed to deal with physically and emotionally challenged people.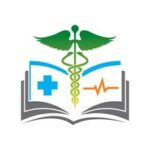 BSc (Bachelor of Science) in Nursing
This undergraduate program aims to prepare nurses for a diverse range of professional roles. The curriculum covers leadership, research, nursing science, and allied areas that teach the practice of nursing. Additionally, it offers candidates with general education in social sciences, humanities, and mathematics. Candidates can find jobs in the research, consulting, administrative, and teaching sectors.
How To Efficiently Prepare For Life Science / Biotech Job Interviews?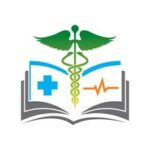 BPharma (Bachelor of Pharmacy)
This undergraduate program is the fundamental prerequisite for starting practice as a pharmacist in several countries. The coursework involves the development of skills needed for advising patients about the consumption of medicines and understanding the impact & properties of medicines.
Apart from these undergraduate programs, a few postgraduate courses for medical aspirants to pursue after their bachelor's are also discussed in this career guide for NEET.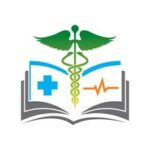 MSc (Masters In Science)
Even though bachelor's degree is frequent and common among medical as well as non-medical students, many students after their undergraduate studies prefer higher studies in subjects such as ENT, forensic medicine, geriatrics, venereology, dermatology, leprosy, anatomy, biochemistry, anesthesia, aerospace medicine, and so on.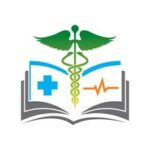 DNB/MS/MD (Diplomate of National Board/Master of Surgery/Doctor of Medicine)
These are the most popular choices among candidates who have completed their bachelor's. Students can further choose a PG (Post-Graduate) course to obtain specialization in their field of interest.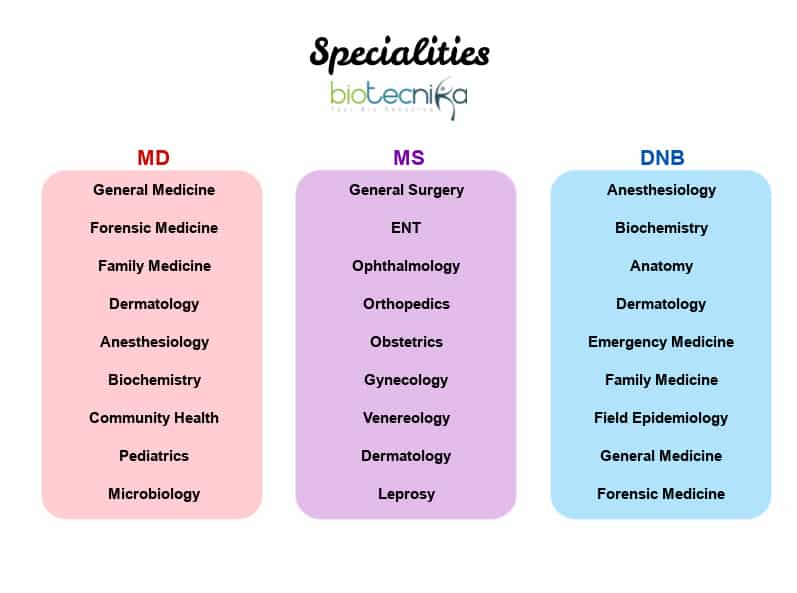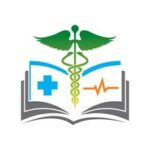 MBA (Master of Business Administration)
Even though MBA after a bachelor's in the medical field is rare, few students take up this unique path to improve their career prospects & entrepreneurial skills in healthcare management. Some of the courses offered are PGD (Post-Graduate Diploma) in Health Administration, PGD in Hospital Administration, PGDHHM (PGD in Hospital & Health Care Management), MBA in Hospital Administration, MBA in GM (General Management), and MBA in Hospital & Healthcare Management.
Few other careers pursued by medical aspirants are mentioned in this career guide for NEET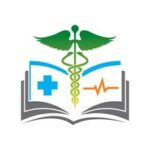 Medical school professor
Teachers and doctors are two of the most well-respected professions. Medical teachers combine two prestigious careers. Professionals having this career can even work as doctors or physicians. Medical instructors are commonly hired in nursing schools and professors in medical institutes.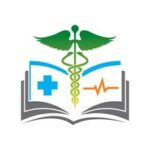 Legal medical advisor
During some cases in court, medical & legal advice for certain elements is sought. Due to the increasing number of such cases in our country, this profession is considered a rewarding one.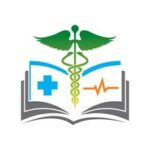 Clinical researcher
Research is a booming field all over the world. Therefore, clinical researchers are also in high demand. All medical functions, operating methods, procedures, drugs, and knowledge, can't be accessed from medical literature. Comprehensive studies are imperative for advancements and breakthroughs in medical science.
Check Out Latest Life Science Updates On Biotecnika
The more candidates explore the possibilities & prospects after clearing the NEET exam, the more it is going to be easy for them. It is always better to know everything in advance right from the conduction to counseling.
Candidates who are still struggling to choose a career after clearing the NEET exam must seek assistance from any professional counselors, parents, teachers, or peers to clear their doubts. Opting for a career just for the sake of it will only make you regret your choice in the future. We hope this career guide for NEET was useful for you. Please feel free to comment below for further queries.
Ultimate Guide For Strengthening Weak Areas In NEET Exam
---
Career Guide For NEET, After NEET Result, Career Guide For NEET, After NEET Result, Career Guide For NEET, After NEET Result
Author – Geema George