How To Reduce Negative Marking In NEET Exam?
The Best Ways To Address Negative Marking In The NEET Examination
The negative marking system is a big obstacle for all kinds of competitive examinations. Even though most candidates have some idea about the question, they tend to omit from answering due to fear of negative marking. However, test takers should bear in mind that even small guessing could cost them a few thousand ranks. Numerous candidates appear for the NEET (National Eligibility Cum Entrance Test) exam annually to get admission to the most renowned medical institutes in India as well as abroad. This all-India examination is one of the most difficult & competitive exams and needs unparalleled commitment if you aspire to succeed in this endeavor. For securing a seat in any of the leading Indian medical colleges, aspirants have to clear the exam as well as get a decent score. As the competition is fierce and the number of NEET applicants is rising substantially each year, every mark counts. Owing to the cutthroat competition of the NEET exam, hard work & meticulous preparation is the best approach to ace the exam with flying colors. Nonetheless, it was found that candidates are unaware of the basis of evaluation for competitive exams, which are logical & analytical skills besides the candidate's intelligence. It is wise to act smartly rather than completely relying on the difficulty & nature of questions while preparing for the NEET exam. There is a myriad of strategies available online to tackle & reduce negative marking in the NEET exam. Understanding the NEET negative marking scheme and practicing relentlessly is an indispensable means to secure a good score in the examination. In this article, we present you with the best-proven techniques for dealing with such questions so as to avoid negative marking in the NEET exam. Check Out Biotecnika For Latest NEET Exam Updates NEET Exam Pattern It is pivotal for all candidates appearing for the NEET exam to know about the exam pattern and its negative marking scheme as it can give a marked distinction between average and good rank. The exam pattern of the NEET exam has been consecutively the same for many years. The NEET exam pattern consists of two sections (Section A & Section B). All four papers (Zoology, Botany, Chemistry & Physics) will have two sections. Section A covers 35 questions whereas Section B has 15 questions. Students need to only answer 10 questions out of the 15 questions in Section B. Hence, the total time allotted & the total number of questions remain the same. Here is a short overview of the NEET exam pattern.
NEET Exam Pattern
Question type
MCQ (Multiple Choice Question)
Subjects for the NEET exam
Zoology, Botany, Chemistry, Physics
Sections for each subject
Section A
Section B
Total number of questions for each section
35 questions for Section A
15 questions for Section B
Maximum marks for each section
140 for Section A
40 for Section B
Total marks of the NEET exam
720
Marking scheme for the NEET exam
4 marks for each correct answer
-1 mark for each wrong answer
NOTE: Unattempted or unanswered questions will be awarded no marks.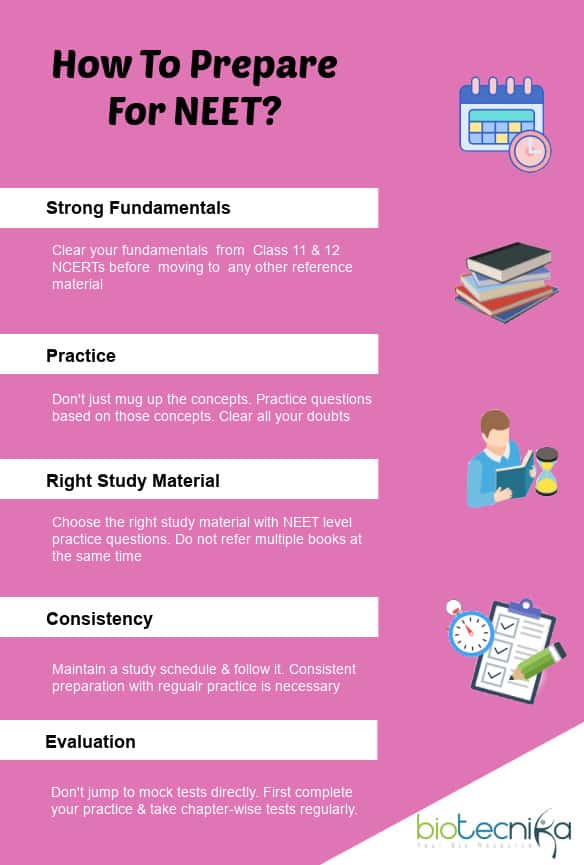 Types Of NEET Exam Aspirants A study based on the candidate's answering approach with a negative marking scheme grouped NEET exam aspirants into three categories- students who prefer to attempt all questions (<10%), students who may or may not answer the question (approx. 30%), and students who prefer to leave questions unanswered (>60%). These three categories are extensively discussed below: Category I: NEET aspirants who attempt all questions Candidates are triggered by the fear of missing out, making them answer all the questions without considering its effect on their NEET rank. In this scenario, students are not worried about marks, however, their main aim is to bubble all the questions in the OMR sheet for the NEET exam.
Is this the best way to address negative marking in the NEET exam?
As students attempt all the questions regardless of knowing the answers for the respective questions, there is a high chance of getting negative marks. Therefore, this method is not the best way to address negative marking in the NEET exam.
It is always best to skip the doubtful questions initially rather than randomly guessing the answers. You can answer such questions after covering the rest of the questions. If you are ready to risk one or two questions and are confident, then you can find the answers with the highest probability in case you need detailed analysis or are unable to remember the concept. Bear in mind that one mark is deducted for each incorrect answer. Negative markings can profoundly affect your NEET exam rank. You don't need to answer all, just answer correctly the questions which you are sure of for the NEET exam.
Guidelines & Instructions For NEET Exam Day
Category II: NEET aspirants who may or may not answer the question Over 30% of students adopt this approach for answering the NEET exam paper. This is directly dependent on how the question paper is for them. So, these candidates are ready to use brinkmanship policy. For addressing the negative marking scheme, students choose the right option depending on a few aspects like probability, elimination method (incorrect answers are eliminated one by one), and so on. – Here is an example for more clarification:  A student is uncertain about 60 questions for the NEET exam and answers 50 of these questions with the approach mentioned above. Suppose, more than half of the answered questions are correct, there is a high chance of getting a score of 120 (30 questions x 4 marks) for this part. With this approach, students can score well rather than being in doubt or omitting the questions. 
Is this the best way to address negative marking in the NEET exam?
This is one of the best ways to address negative marking in the NEET exam if NEET aspirants are unsure due to calculative risks. Even though the risks are the same, there is an increased possibility of yielding better scores compared to other methods, and hence the outcome is different. In this case, there are very few unattended questions and are backed by conviction.
Follow this way to address negative marking in the NEET if you are uncertain about some questions in the NEET exam.
Online Vs Offline Coaching – Which Is Best For NEET Exam?
Category III: NEET aspirants who leave questions unanswered This is a commonly observed answering pattern because of the negative marking phobia in the NEET exam. It is okay to omit three or four questions if you know nothing about the question. However, it can cost you a lot of marks if you do this for 15 to 20 questions, thereby affecting the total score. Since the student has not answered questions, there is a high probability of a significant reduction in the score.
Is this the best way to address negative marking in the NEET exam?
This is clearly a bad approach since it can hamper your chance of getting a good rank in the NEET examination.
There are no alternative means to a full-proof preparation for the NEET exam. It is better to cover all the topics scrupulously to avoid ambiguity & to avoid negative marking in the NEET exam. You can choose the closest or nearest answer if you still come across such confusing questions. Skip the question and concentrate on the subsequent question if it is still dubious. However, limit this to one or two questions to enhance your NEET score.
Best Books To Crack NEET Exam 2022 and Preparation Tips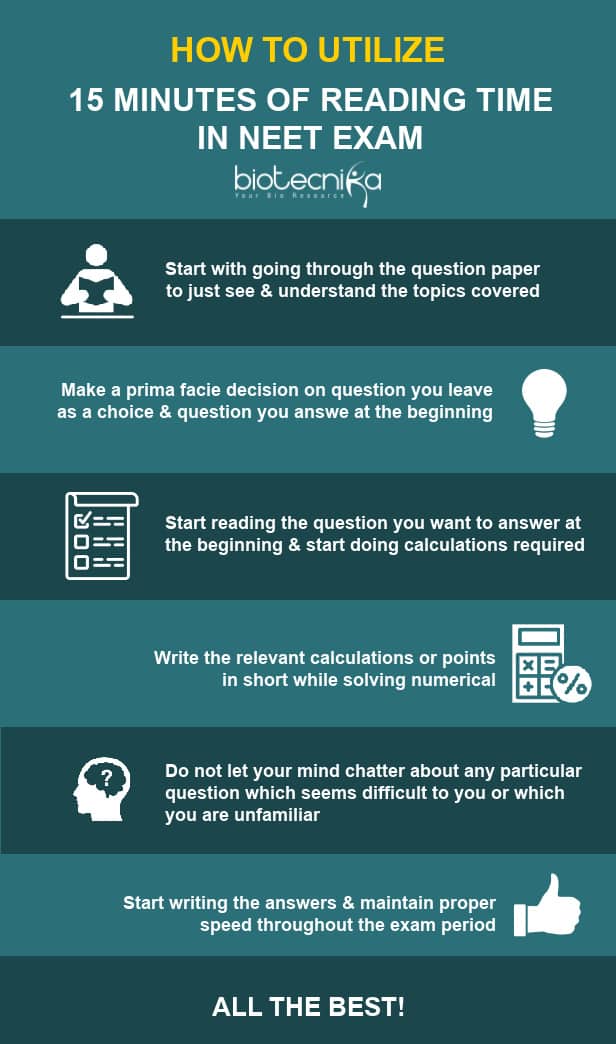 Most Common Mistakes Made By NEET Aspirants The greatest mistake of all is exam stress. Focusing less on NEET exam preparation & worrying excessively about the results is the major pitfall. Here are a few frequent mistakes by the NEET candidates.
Not using proper formulas: Even though the NEET exam has objective questions, you need to answer numerical questions by using suitable formulas. Without appropriate equations or formulas, you can end up choosing the wrong answer and can substantially affect your speed.
No unit conversion: Most analytical questions involve the use of unit conversion. If NEET aspirants fail to do such important steps while solving the questions, it critically questions their practice & exam preparation.
Oral calculations: It is absolutely clear that this is not a MENSA test that assesses your IQ or mathematical expertise. Instead, the NEET exam tests the competence to recall the concepts and their efficient application. The ideal approach is to use pen & paper for answering numerical questions.
Omitting questions unknowingly: It is commonly seen that candidates keep aside difficult questions for answering later but at last end up forgetting about these questions.
Solving unsure questions: This is a common error made by NEET aspirants. Instead of answering questions that they are confident about, they have repeatedly solved the questions that could have been skipped.
Beginning with the hardest part: This all-India entrance examination largely relies on your mind. If you aspire to crack the NEET exam with a high score, you have to begin the exam accordingly. Beginning with the hardest section in the NEET exam can result in poor performance & low morale.
Improper reading of questions: One of the critical problems with candidates appearing for competitive exams is that they don't try to clearly understand the question. Most students are concerned about completing the exam within the time limit and rush the reading. They answer the question just after going through them once. This can hinder the candidate's understanding of the question.
NEET Revision Tips – Ace Your Medical Entrance With These Tips
Five Proven Strategies To Avoid Negative Marking In The NEET Exam How to avoid these common mistakes & reduce negative marking in the NEET exam? Techniques to deal with the mistakes mentioned above and avoid negative marking in the NEET exam are explained in the table below:
| | | |
| --- | --- | --- |
| Strategy To Reduce Negative Marking In The NEET Exam | Explanation | Common Mistake |
| Units Meter | It is important to check the units employed in the question while solving numerical. So, your answer should be in the units asked, or else you can get a wrong answer | No unit conversion |
| Sharp Calculations | You can avoid negative markings and errors by calculating properly. You can rectify the answers by checking the calculation again. Thus clean calculations save time when you need to tally the steps | Oral calculations & not using proper formulas |
| Simultaneous OMR | It is wise to bubble your answers as you solve the question. This helps in increasing accuracy and avoiding confusion with answers. Also, you will know if you have skipped any questions | Omitting questions unknowingly |
| PYQ (Previous Year Questions) | If you efficiently prepare for the NEET exam and practice with PYQ, you will get a clear idea of the exam pattern. This can additionally help in solving easy questions quickly for the actual exam | Solving unsure questions |
| Round 2 | Mark the difficult questions for later and skip to the rest of the paper. This can save you a lot of time during the NEET exam. After completing other questions, you can come back to these marked ones. This way students can clearly understand the questions before answering and reduce negative marking in the NEET exam | Improper reading of questions |
Future Prospects After Qualifying NEET Exam
How To Avoid Negative Marking In The NEET Exam- Other Tips & Tricks
It is vital to understand the thin line between confidence & overconfidence. Confidence is of paramount importance for all test takers, nonetheless, ensure not to become careless or go overboard while solving the questions for the NEET exam. Few candidates get overexcited just after skimming through the NEET exam paper which can result in silly errors and eventually yields negative marking. Therefore, restrict yourself from going overboard with your emotions during the NEET exam to reduce negative marking in the NEET exam.
Peruse questions & options attentively
At times, candidates may find familiar questions that are somewhat like the ones they have practiced before. Nonetheless, there could be small alterations in the question which candidates often ignore leading to negative marking. Moreover, candidates need to read the questions as well as the corresponding options (answers) thoroughly before solving. Be cautious of words such as except, not, like, and so on. Confusing & similar options are provided for the NEET exam in general. Close attention is a requisite for the NEET exam. Aspirants are advised to select the correct as well as the closest ones in clashing or repetitive options. Even though meticulousness is not easy, it can be acquired gradually with proper preparation. How To Prepare For NEET? – Preparation Tips
Remember to always abide by the NEET exam rules & regulations. During the examination, it is essential to adhere to the guidelines in order to avoid negative markings in the NEET exam. This is particularly true for the rule that says to select one option & shade a bubble in the OMR answer sheet. If you unintentionally or intentionally shade more than one option, the whole question will be considered disqualified, resulting in negative marking. Always bubble the OMR sheet neatly and ensure that there is no overlapping.
Follow the proper MCQ answering method
Every NEET aspirant must know this strategy for answering the objective questions in order to reduce negative marking in the NEET exam. Initially, peruse the question to understand what is being asked. See if there are any twists or double negatives in the answer. Prior to checking the options provided, try to answer the question on your own. This will help in ruling out the dissimilar choices. The options which you consider as incorrect can be eliminated. After this, concentrate on the rest of the choices. Also, students who get enough time can return to doubtful questions for answering them correctly. At times, candidates get hints from other questions asked in the NEET exam paper.
Proper allotment of time is another crucial NEET negative marking tip. The main aim of this technique is to identify the questions according to your potential. NEET aspirants can follow these three rounds for the success of the examination.
Rounds
Type Of Question
Time
What Candidates Have To Do?
I
Simple
Initial 120 minutes
Identify the questions that you know
Stick to 30 seconds for each question
II
Difficult
Subsequent 50 minutes
Return to the hard questions
Do not take more than 1 minute for each question
Adopt elimination strategy to reduce negative marking in the NEET exam
III
Revise
Final 10 minutes
Quickly go through the answers
Avoid last-minute guesswork and changes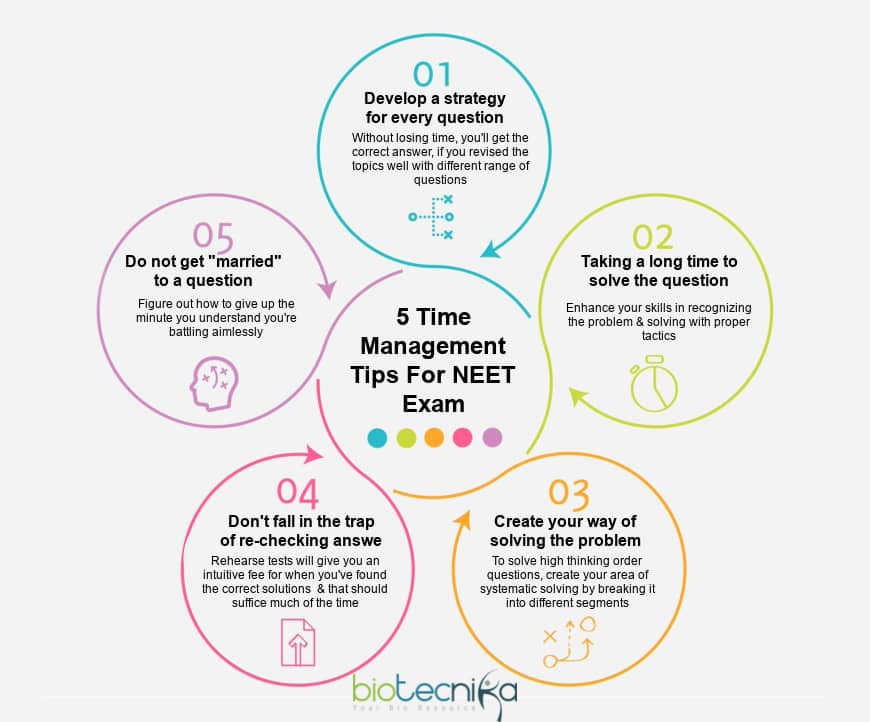 Things To Know Before Preparing For NEET
An optimistic view is a fundamental ingredient for success. Positivity can strengthen your performance, brighten your thoughts, and boost your confidence. Ensure to make your steps unwavering and determined. Give all your effort to achieve the best outcome by concentrating on your goals. This is the ultimate mantra for success in any matter.
Stress is a common issue among NEET aspirants during the preparation as well as during the exam. Nearly 10 lakh students have the same issue when they prepare for the NEET exam. Candidates can engage themselves in a few relaxing activities like sleeping for 7-10 hours, drinking coffee, eating energy-rich food (dark chocolate & nuts), meditation, and so on. Resting for an ample amount of time is equally important to avoid negative marking in the NEET exam. Stress is common, however, note that besides covering the NEET exam syllabus, you have to address your weaknesses to succeed in this examination. Most students stress out as soon as the question papers are distributed. Nonetheless, this can negatively affect their NEET score due to focus loss & failure in even answering the questions they know. Therefore, priority should be given to reading the NEET exam paper thoroughly. Students can begin with familiar and easy-to-answer questions. It is imperative to overcome the anxiety and stress such that you be calm during the exam time for answering the questions properly. The NEET negative marking tip directly influences the candidate's psychology by restoring their faith in themselves. This acts as a warm-up for your brain to get ready for tricky questions. On the contrary, starting with difficult questions can result in increased stress and negative marking.
Avoid last-minute answering
NEET is a crucial doorway for a medical aspirant. Candidates need to be extremely careful while answering the questions. Students may be discontented with incomplete answering but they should not risk solving uncertain questions. Answering such doubtful questions can result in negative marking. Students must additionally pay attention to not answer any initially skipped questions if they are unsure about them.
Assess yourself before the actual exam
Mock tests are the ideal means to evaluate yourself. Practice as many sample papers as possible. Analyze your marks to evaluate your performance. This can also help in strategizing their own unique method to answer the NEET exam questions. During each mock test improve your performance. This can enhance your confidence level and avoid the last-minute rush. Make it a routine to regularly solve NEET mock tests to increase your speed and accuracy. So, students can attempt maximum questions with careful analysis & reading. Relentless practicing can help you score well in all NEET exam subjects regardless of the level of pressure & time limit during the actual exam. How To Calculate Negative Marking In The NEET Exam? As mentioned at the start of this article, the NEET exam consists of 180 questions in total with a maximum of 720 marks. Each correct answer is awarded 4 marks and 1 mark is deducted for each wrong answer. One can follow these steps to calculate the total marks during their mock tests as well as the actual NEET exam:
Count the number of incorrect & correct answers with the answer key provided
Multiply 4 with the number of correct answers
Multiply 1 with the number of incorrect answers
Find the difference between the two to get the total score
How To Prepare For NEET Along With 12th Boards?
These are some of the major NEET negative marking tips for preparation as well for the exam. Even though this national-level entrance examination is difficult to clear, it is not impossible to secure a decent rank with thorough preparation. Always remember to cover all the concepts and strengthen the basics for securing the top rank. Regularly practice with sample or previous year papers to measure & improve your performance. Besides these NEET negative marking tips, it is also good to properly study the diagrams & charts from the Biology (Zoology & Botany) part. Biology questions are the easiest to score, yet the most problematic ones. By correctly answering questions from this section alone, you can easily get a good score because of its high weightage in the NEET exam Hence, it is wise to spend some time understanding the charts & diagrams to answer questions correctly.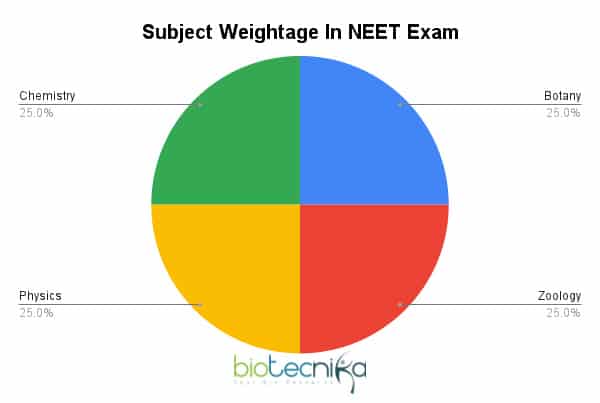 Negative marking clearly distinguishes NEET exam toppers and candidates who fail to clear the exam. NEET aspirants can follow these golden NEET negative marking tips to avoid negative marking in the NEET exam. Ensure to stay abreast with the latest negative marking tips & tricks to easily crack competitive exams like NEET.
Didn't Perform Well In NEET Exam? Here Are Some Alternatives To MBBS
---
Best Ways To Address Negative Marking In NEET, How To Reduce Negative Marking In NEET, NEET Negative Marking Tips Author – Geema George