Best software for making notes while preparing for the NEET exam 
When it comes to cracking the sole medical entrance examination – NEET, students should seriously focus on making some smart notes. Smart notes are the utmost preparation booster and a godsend for students right before exams. They are extremely beneficial, but students prepare incomplete Notes NEET, mistaking them for perfection.
Writing or recording notes improves motor, visual, and auditory recall, making concepts relatively easy to recollect. Effective note-taking improves students' long-term retention of concepts and their overall performance in Mocks and Finals. It has been discovered that 95% of NEET aspirants prepare incomplete notes for all subjects. The correct way to prepare complete notes significantly improves preparation and efficiency, resulting in high performance in all exams.
While studying at coaching or watching an online video lecture, students have a tendency to replicate the teacher's dialect from the board/writing devices. This written content mainly comprises the board's literature, which is not proper notes.
Over 85% of students take notes in class, which is almost always inadequate because 100% of note-taking is impossible in an online or physical class. When one writes down what the teacher says, one frequently overlooks a few points or topics. It may occur due to the teacher's varying pace or because the teacher explains a few topics orally.
What is Note-taking?
Note-taking is the method of collecting information from a source or event. This is typically accomplished through recording, writing, jotting, paraphrasing, drawing, labeling, highlighting, and making notes. Users can type, write, and draw on their devices like they would on paper using note-taking apps. Many note-taking apps have different features, storage, organization, and sharing potentiality, and it's up to the reader to figure out which one is best for them.
Importance of note-taking
Taking notes is an essential component of the learning process. Effective note-taking, according to studies, motivates students to concentrate and can enhance learning both internally and externally. Taking notes enables students to process new info quickly and more profoundly than they would if they had to experience it. Review and evaluation notes lead to a better recollection of the information.
One of the benefits of using note-taking applications is that they are relatively inexpensive to use. The majority of apps are free or have a minimal monthly charge, which may counterbalance the cost of buying paper or notebooks for each subject. However, the user must have a device, like a laptop or a tablet, which can be costly to purchase separately for using the applications.
Most students prefer to keep digital copies of their notes and scan them. As a result, image quality suffers, and studying becomes inefficient. Students can avoid the intermediate step by using note-taking apps. Instead of taking printouts of notes, students can use note-taking apps to provide more precise and easier notes to read.
What distinguishes an excellent note-taking app from the rest?
With so many apps to choose from, students become perplexed. So, before you choose one, consider the below points.
Authentic – First and foremost, the apps must be genuine and do what they claim to do. This appears to be a low bar to clear, but you'd be surprised how many apps failed to meet it. Image-to-text conversion and stylus support aren't required in every note-taking app, but they must be well implemented and enjoyable to use if they are.
User friendly – The next thing is that all note-taking apps need to be quick and simple to use. It should be nearly as simple to access a notes application and jot down a brief note as it is to reach across my table for a notebook and a pen. This rule also applies to other functions: editing and sorting notes had to feel natural and effortless, instead of requiring a tussle with a bad user interface.
Accessibility – Another advantage of using a notes app over a notebook is that you can access it from any device at any time, whether you're in class, at home, or on a plane. The app must be available on at least one desktop and one mobile platform, supporting offline features. You can't be sealed out of your book just because you don't have Wi-Fi.
Value for money – Lastly, the value for money should also be considered. Several of the best apps have a reasonable monthly charge, which should not impede inclusion as long as it is justified by the services available.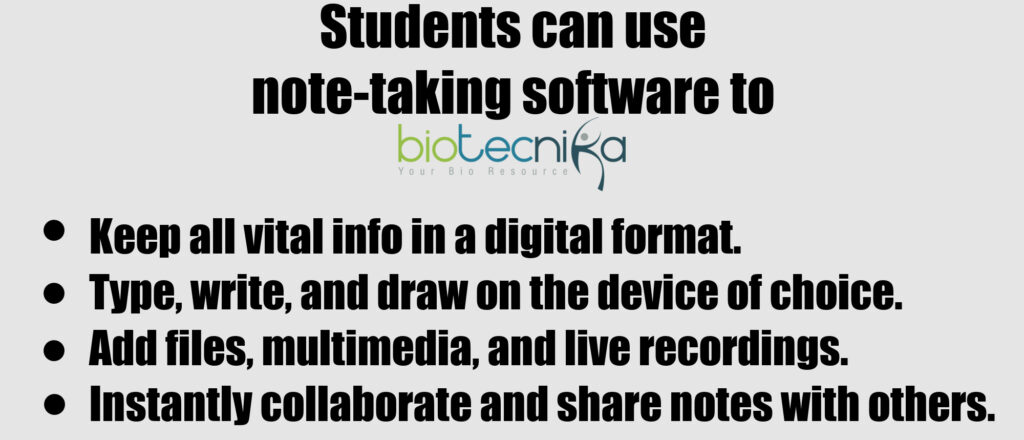 Check out the best software for making notes while preparing for the NEET Exam.
Notion is the first one on the list of the best software for making notes while preparing for the NEET Exam. Unlike most apps, it provides a powerful, database-driven note-taking experience. This app is so much more than just a note-taking app. Notion allows you to take notes, create documents, manage projects, create Kanban boards, and track tasks. The app can easily add images, links, text, and so on to your notes. Other people can join in on the notes and make changes in real-time.
Each new note or document is called a page, and everything in Notion is called a block. Basic elements include audio, checklists, code snippets, files, headings, images, video, and web bookmarks. You can use as many blocks as you want on each page in any combination. They're exceptionally simple to add: type / and navigate through the list. There are many built-in templates, so don't feel obligated to customize everything when you're first starting. Select Templates from the sidebar and browse the options until you find one you like.
It's hard to discuss note-taking apps without mentioning Evernote, so its inclusion on this list should come as no surprise. It's one of the most compelling options, and it can manage notes in nearly any format. Audio clips, e-mails, images, PDF documents, scanned handwritten pages, Slack conversations, text notes, websites, and Text notes, audio clips, images, PDF documents, scanned handwritten pages, Slack conversations, e-mails, websites, and whatever else comes to mind can be added. Evernote provides a single, secure location for everything.
Evernote is more than just a storage facility. It's designed to make it simple to sort and organize your notes. By going to New > Note, you can type whatever you want or add any of the supported note types, and then add tags at the bottom of the screen. Tags will be suggested if you already have them set up; otherwise, type whatever you want and press Enter. Click Tags to see a searchable list of all the tags you've used in the sidebar. It's a convenient way of sorting notes as you write them without worrying about placing each one exactly where you want it.
Evernote's free plan allows you to use 2 devices, but you cannot save notes for offline access on mobile. On the other hand, Evernote is the app for you if you want the "supreme all of its notebook" and don't bother spending a monthly fee.
Microsoft OneNote is a free, feature-rich free note-taking app. OneNote is incredibly adaptable when it comes to taking notes. Because each Notebook is modeled after a ring binder, it is divided into sections with subsections known as pages. And each page is essentially a blank canvas on which you can write whatever you want, wherever you want. This implies you can drag and drop a photo into it or tap anywhere to add text notes next to it. It appears to be an answer for students and others who need to take long, didactic notes about something, rather than those looking for a digital notebook to gather short snippets and random concepts.
OneNote is free, but it uses your OneDrive storage. You get 5GB of storage space, which should be sufficient for most people. However, if you use OneDrive to save images or audio notes, you may exceed that limit.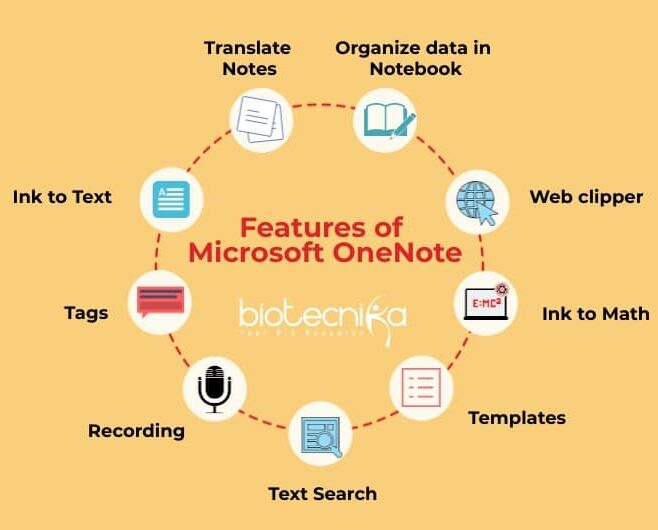 If you already have Apple products (Mac or iPhone) and like Apple's ecosystem, you won't have to look far for an excellent free note-taking app. Apple Notes is built into macOS and iOS, but it can also be accessed through your webpage. Navigate to icloud.com/notes to access an online version of the application that includes all of your synced notes—even if you're using a PC or Chromebook. As long as you have enough iCloud storage space to store everything, it's an added bonus that keeps your notes from being completely locked into your Apple devices.
Apple Notes is less sophisticated, but this isn't a deal-breaker. It's convenient, simple to use and even works with Siri. Its search feature is also quite effective. You can search for drawings, images, specific attachments, texts scanned in a document, texts you've written, or something within the image you're looking for.
You can add checklists, add text, attach images, draw or handwrite, format things into tables, scan documents, and more to a new note. Multiple items can be added to a single note, but unlike OneNote, they are compartmentalized.
Nowadays Ai can transcribe your Teacher's voice into text and even you can take voice notes while the teacher is teaching. Otter.ai employs artificial intelligence to provide users with real-time notes that are shareable, searchable, accessible, and secure. This way you need not note down everything during the class and you can refer back to the text and audio recording for future revision purposes.
Standard Notes is a simple and private notes app available on various platforms, including the Web, Mac, Windows, Linux, iOS, and Android. It prioritizes ease of use and encrypts data locally before sending it to the cloud. This indicates that no one else can read your notes except you.
The fundamental application is free to use and includes a free account that syncs your data across all platforms with no data capacity restrictions. If you don't have a desktop app, you can use their web application.
You'll need to upgrade to Standard Notes Extended if you want to get the most out of it, which includes over 30 extensions.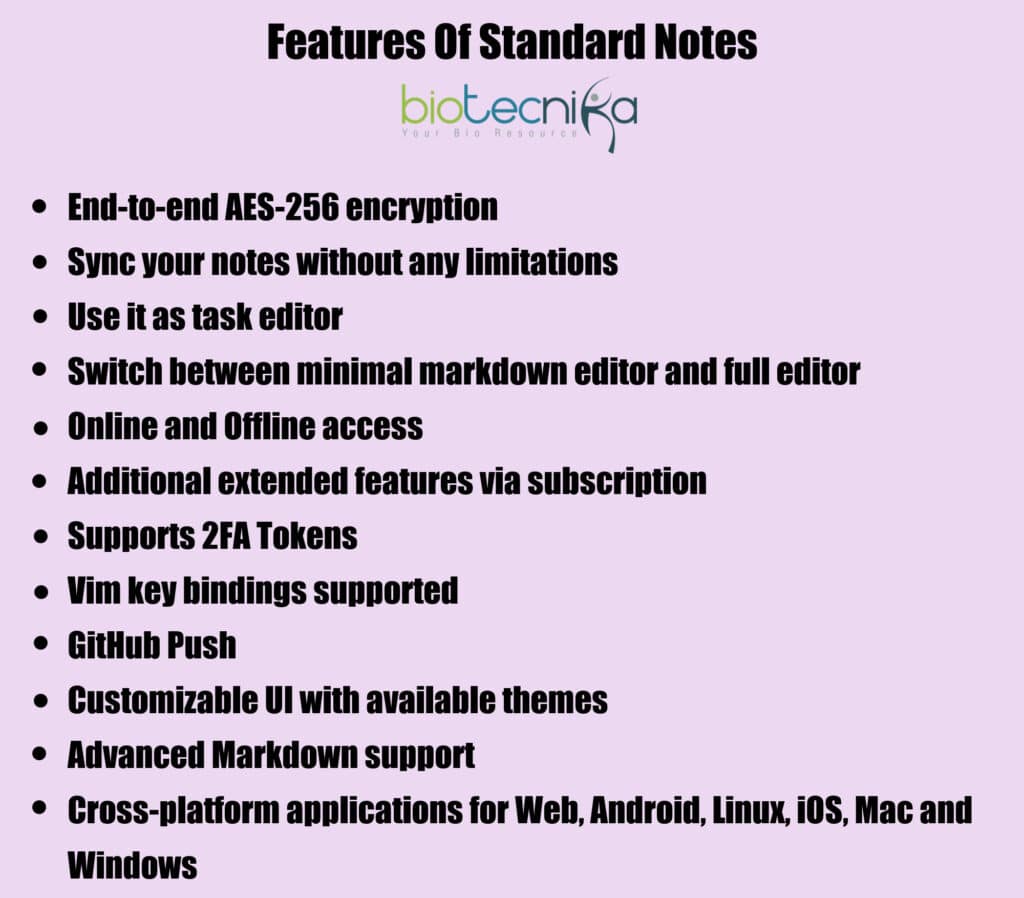 Ulysses is the next app on the list of the best software for making notes while preparing for the NEET Exam. It is a writing application for the Mac, iPad, and iPhone. Ulysses is one of the best choices because of its delightful, focused writing experience, efficient documentation, smooth sync, and versatile export.
It concentrates on a customizable, minimalistic interface that can do everything you want it to do while remaining out of the way when you don't. There aren't many distinctions between the tools and Microsoft Word or Pages, but the presentation and how the tools interact are entirely different.
Gone are the days when students used to carry heavy books or notes while traveling. Today you can use the Document scanner app to scan the notes and textbooks and carry them with you for quick reference and revision.
Typora provides a seamless experience for both readers and writers. The preview window, mode switcher, markdown source code syntax symbols, and all other distractions are removed. Instead, it provides a true live preview feature to assist you in concentrating on the content.
The most distracting aspect of taking notes on a computer is the computer itself, with its cluttered toolbar and the regular unwanted buttons that no one needs. Typora addresses this by providing a simple note-taking interface on Windows, Linux, and Mac. Despite its sparse appearance, the app contains all the markdown features required to create comprehensive notes.
Notability is a popular digital note-taking app for iOS devices. Color customization, simple PDF exports, audio recording, and the ability to search handwritten notes are just a few of the features that make it an incredibly useful resource for students.
Notability's most notable feature is the ability to add audio to your notes. Audio notes are useful for reviewing your notes because you can record and annotate key bits of the lecture simultaneously. Notability's voice memos are linked to your annotation, allowing you to catch up on points you may have missed while taking notes. You can also use the play, adjust-the-playback-speed, and skip-ten-seconds functions within the recorded files.
The Best Software For Making Notes (PDF) for students is Flexcil. It is a note-taking app that many students use to take PDF notes. Objectively, Flexcil is so popular because you can open the textbook in the note app and take notes on the PDF files.
The gesture feature is one of the most important features of the Flexcil app. You could use the gesture feature alone to look up a word in the dictionary, copy something, or even capture an image to the size you want. The two-page viewer function lets the users view your files as an actual book and take notes efficiently. Flexcil makes it possible to annotate PDF files while also taking notes separately.
You are free to move the note memo around the PDF files as your wish. Finally, Flexcil works with a variety of pens and highlighters. You can flexibly change the colors and thicknesses of your pens, and you can even pin your preferred pens for quick access. Flexcil, unlike the two preceding apps, can be used in either the free or standard version after the 10-day free trial.
Zoho Notebook is a digital note-taking app that is compatible with a variety of devices and operating systems. It is an online tool suite that includes a word processor, image and audio creator, and organizer. Even though it seems complicated, it is all very simple to use.
Zoho Notebook lets you keep notes in the form of words and images arranged on a single screen for quick access. These can be segmented into multipage 'notebooks' for greater depth.
Sharing is also possible, thanks to simple link sharing and the ability to share via e-mail from a smartphone.
The last one on the list of the best software for making notes while preparing for the NEET Exam is Simplenote. It is a note-taking app that supports Markdown. In addition to most web browsers, cross-platform apps are available for Android, iOS, macOS, Linux, and Windows. The macOS app Notational Velocity and the Windows utility ResophNotes can sync with Simplenote.
Simplenote is a simple app for taking notes, making to-do lists, capturing ideas, and more. Open it, scribble some ideas in it, and you're done. As your collection grows, use tags and pins to keep it organized, and use instant search to find what you're looking for. Because Simplenote will sync your notes across all of your devices for free, your notes will always be with you.
Things To Know Before Preparing For NEET
Check out news, jobs, and opportunities at BioTecNika and Rasayanika.
---
Keywords: Best Software For Making Notes While Preparing For The NEET Exam; Best Software For Making Notes; Crack NEET exam with the Best Software For Making Notes; NEET exam; NEET; NEET 2022, NEET Notes Software