The Major NEET Exam Mistakes To Avoid
NEET or National Eligibility cum Entrance Test is one of the toughest & prestigious entrance exams in India. It is a single gateway for a respected profession in the medical sector. It is a common misconception among NEET aspirants that only students with outstanding academic performance can clear the exam. Anyone with smart work, thorough dedication, and a robust strategy can ace a competitive exam like NEET.
All NEET candidates aspire to crack this national-level exam in the first go itself. They give their maximum effort to achieve this goal. Nonetheless, not all who appear for the NEET exam clear it. Those candidates who failed to pass or missed by a few points think about the mistakes they made. Dedication or commitment is not the only problem for NEET aspirants, it could also be silly mistakes. Even a small error can influence the NEET aspirants' results. So, it is imperative for all candidates to know the potential mistakes they tend to do for the NEET exam as well as their seniors' mistakes in order to prevent it from happening again.
This article intends to bring to notice the common NEET exam mistakes made by the candidates during the application, preparation as well as on exam day. This way NEET aspirants can focus on cracking the exam without any hassles.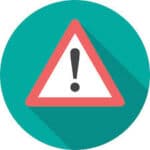 Common NEET Exam Mistakes During The Application
Discussing the NEET exam preparation mistakes alone won't be sufficient. It has to begin with the NEET exam application mistakes. It is wise to know the common NEET exam mistakes made by the candidates during the application process such that candidates can avoid them & focus on their exam preparation. Here are a few common NEET exam mistakes made while filling the NEET application form.
Incorrect qualification code
Students who have passed the Class 12th exam are eligible to apply for the NEET exam. Candidates need to have at least 50% marks in Biology, Physics & Chemistry for the 12th examination. For candidates belonging to the reserved categories, 40% is the required minimum percentage. Students who cleared the Class 12th examination from any National Institute of Open Schooling or State Open School are eligible to apply for the NEET. The age limit is 17-25 years with an extension of 5 years for candidates belonging to the reserved category. While filling the application form for the NEET exam, students should mention the correct qualification code as given in the NEET information bulletin.
Digital images with incorrect size or format
The digital images of the photograph & signature can't be anything other than the specified size by the NTA (National Testing Agency). Candidates need to make sure that all the images are legible and clear. Application forms having illegible & unclear images will be immediately disqualified. Candidates need to upload images with white background. Students can use clear white paper & a blue or black ballpoint pen for signature. The images (signature & photograph) must be within the specified size limit. For digital images of signature, the size must be within 3-20 KB and for photographs, the size must be within 10-100 KB.
Online payment is the only accepted mode of payment. Candidates can pay using any of these three payment methods- e-wallet, net banking, credit & debit card. Offline payment through challan, cheque, or demand draft will not be considered acceptable. The confirmation page can be printed only after the application fee has been successfully paid. Any kind of failure to finish the payment can lead to disqualification.
Postal address with the wrong PIN
Students should make sure that they fill the postal address with the right pin code. They also have to assure that the address is correct. According to the information bulletin provided, candidates will be responsible for filling correct contact details and postal addresses in the application form for further communication during counseling.
NEET applicants should ensure that the spelling of details such as mother's & father's names, address, and candidate's name must match with their Aadhaar card details. Similarly, candidates' date of birth should be the same as that on their Aadhaar card. Additionally, applicants need to make sure that all the credentials entered are authentic. If there are any mistakes in the application form, candidates can correct them during the correction window. Candidates are strongly advised not to fill in another application. Multiple application forms can lead to canceling of the candidature.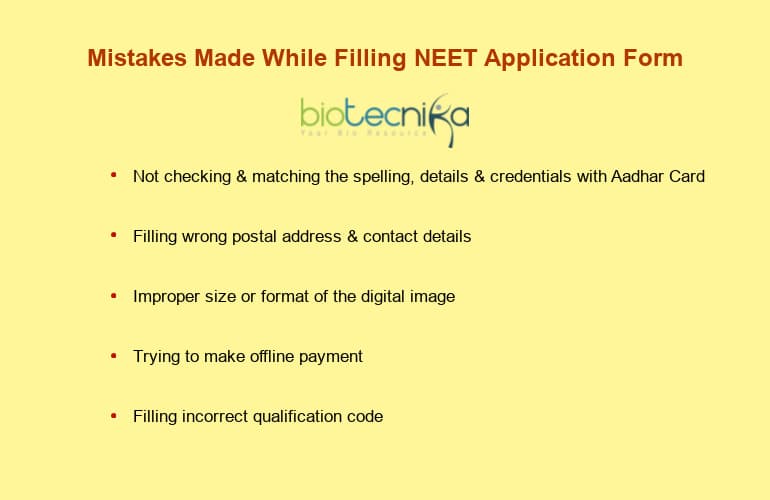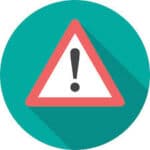 Common NEET Exam Mistakes During Preparation
The common NEET exam mistakes listed below are not specific to a topic or a subject. It can differ based on the approach or method of preparation. Here are some of the major silly mistakes made by the NEET aspirants during preparation.
Consistency is one of the crucial aspects that determine success. So, remember to always be consistent throughout the NEET exam preparation. It has to be noted that rather than being a bookworm, consistency is about understanding & retaining the concepts which are learned. Instead of focusing on the time, candidates need to concentrate on their output. Ensure to make daily progress and not sit long hours without any result. Follow this routine every day so that one won't miss it. Inconsistency can only be resolved by following the prepared schedule properly.
No dedication or devotion
Always remember to stay focused. Ensure to have dedication & devotion during the NEET exam preparation in order to stay focused on the objective. Remember these words- destination, desperation, dedication & devotion and try to religiously follow them. Fully desperate, devoted & dedicated aspirants can successfully reach their destination.
Candidates need to be careful of the NEET exam preparation. They have to stay clear of all kinds of distractions until exam day. If students find anything disturbing or distracting, remove them instantly. Students need to train their minds to neglect them. They have to solely focus on their aim.
Even though the NEET exam needs a lot of attention & time, never ignore health. If one is not healthy, then they would not be able to prepare properly for the NEET exam. It is important for NEET aspirants to resume their hobbies along with their studies to remain active throughout the preparation. Also, friends & family time can help in relieving stress during the NEET exam preparation. Create a schedule that covers ample time for refreshing & relaxing. Candidates who stop spending time with their families or friends end up getting demotivated. Furthermore, the current pandemic scenario can result in stress & anxiety. Nonetheless, students should not be overly concerned about the deliberations, discussions & news on the upcoming NEET application process & exam. Stay focused on NEET exam preparation & rest in between to maintain balance & composure.
Ignoring the NCERT syllabus
NCERT books are always an indispensable part of the NEET examination. If candidates aspire to score well for the NEET exam, they need to be thorough with the NCERT contents. Ignoring the NCERTs & referring to just the reference sources is one of the biggest mistakes that NEET aspirants make. NCERT is the standard book for any NEET subject. Candidates must only shift to reference materials after finishing the NCERT syllabus. Reference must be employed as supplementary study material and never a replacement for NCERT. Additionally, students should constantly revise the topics after finishing the NEET exam syllabus once. Continuously revise, practice & read till the D-day. Commence the NEET exam preparation as early as possible.
Overdependence on mock tests 
Several candidates feel that NEET mock tests are more helpful than reading study materials for NEET exam preparation. Most of the NEET aspirants solve sample papers or previous year questions rather than actually perusing & understanding the concepts. Even though it is helpful during the initial period it could become hard towards the end when candidates come across advanced questions that need higher-order thinking. During the NEET exam preparation, candidates should always be well-versed with the NEET exam syllabus before solving any mock tests or sample papers. Students can solve any kind of questions if they have mastered all the concepts in NCERT & NEET syllabi.
Upon finishing the NEET exam syllabus, students can begin solving questions to assess their preparation. Students prefer using previous year question papers, sample papers, and mock tests for testing their potential daily, weekly, or monthly. Nonetheless, students tend to ignore the analysis of their performance after solving mock tests. Candidates should realize the importance of analyzing their performance after mock tests. These assessments mirror the candidate's subject knowledge & test their skills. During this assessment, students have to determine the number of questions that are answered incorrectly & correctly. Candidates need to keep track of the time taken for attempting each question and slowly improve their speed. Students need to learn how to answer the questions which they were initially not able to solve. With proper analysis, NEET aspirants can determine their accuracy, speed, and strong & weak areas. They can also identify the recurring mistakes & areas that need further improvement. After a careful analysis, students can change their preparation accordingly. Never get disappointed with the repeated low scores during mock tests. Keep on improving & work diligently to score well for the actual examination.
When students decide to prepare for the NEET exam, they look for reference books everywhere. Most of them even buy lots of books for a subject alone and end up sitting on the shelves till the last day. A common issue while using multiple books is that candidates move to another reference book before finishing a chapter from the previous book. This often results in confusion. For addressing this problem, students are advised to buy only one or two relevant books for each subject. This way, they can also cover all the reference books without wasting money. But, always remember to complete NCERTs first & later refer to other study materials.
While attempting previous year's papers or mock tests, candidates might find a few questions that are hard to answer. Even though memorizing some Biology questions & answers might be useful at times, the same can't be applied to Chemistry or Physics questions. Instead of cramming all answers, students have to rework the concepts for questions from these two subjects. They must initially find their weak areas, learn the concepts in detail, and revise them regularly prior to the next mock test. Candidates need to clearly understand the topics well in order to answer tricky NEET questions. Making short notes can be beneficial for the preparation as well as revisions.
Candidates who prepare for any competitive exam initially create a timetable for them to follow for effective studying & time management. Nonetheless, an impractical study plan is one of the major mistakes made by NEET aspirants during the preparation. Having a proper schedule is currently a quite complex task. With colleges & schools yet to recover from the pandemic effect, candidates have plenty of time to prepare for the upcoming NEET exam. Nonetheless, a lack of discipline, focus, and sincerity has taken over NEET candidates. This poor study setup is affecting the preparation for the upcoming NEET examination. To exploit the time wisely, students must devise a study plan with frequent resting time & realistic goals. Ideally, candidates should follow 15 minutes of break & 45 minutes of study for effective learning. While making the timetable, NEET aspirants need to make sure that they should divide their time equally for all NEET exam subjects. Moreover, they need to set aside some time for practicing questions from previous year's papers & mock tests. Following the completion of the NEET syllabus, students must update their study plan & spend time for revision.
There are some sections that are hard to understand when compared to others in the NEET exam syllabus. Students usually leave the hard topics initially for covering them later. This is one of the biggest blunders that NEET aspirants make during the NEET exam preparation. The neglected section carries some weightage for the NEET exam & this can result in loss of marks during the exam. So, candidates need to be aware of the weightage of each chapter for the NEET exam to clearly understand the significance of each topic. Even though students are advised to cover all the topics, if they face a situation where they have to omit a few topics, they need to decide wisely before leaving those topics based on the NEET exam weightage. NEET experts state that students have a low chance of clearing the exam if they omit some topics for focusing more on other topics. Candidates should be able to score decently in their weak areas & must be strong in their strong areas.
Unfamiliarity in the negative marking scheme 
NEET exam pattern has to be properly understood prior to the NEET exam preparation. As per the NEET exam pattern, students fetch four marks for each correct answer & lose 1 mark for each incorrect answer. The final NEET exam score is profoundly affected by the negative markings. The difficulty level of this exam has increased primarily due to negative marking. The ideal way to understand NEET negative marking scheme is by practicing sample papers or mock tests. Students must relentlessly practice for getting a clear idea about the difficulty level, marking scheme, and nature of NEET MCQs. During mock tests, students must learn how to answer the scorable questions & how to leave the uncertain ones. Students generally answer all the questions without thinking about the negative marks. Some do this for seeing a completed OMR answer sheet or for the sake of answering questions. This can cost them a lot of marks. Hence, for cracking the NEET exam, students need to work smartly as well as diligently.
NEET exam preparation is very stressful & demanding. Managing the fierce competition, handling multiple subjects, and studying for long time periods takes a toll on the NEET students' results & health. Nonetheless, neglecting health & overstressing about the future would only worsen students' preparation & their health. Candidates must realize that clearing the NEET exam is difficult and one needs to practice & work hard. They should take care of their mental & physical health for preparing well and acing the NEET exam.
Procrastion is a common mistake that NEET aspirants should definitely avoid. Aftermaths of postponing are aware to all, so it is better to complete their daily tasks as per the schedule. To avoid procrastination, students can track progress, reward themselves after a session, create daily/weekly/monthly plans, make a to-do list, and set timers.
Referring to multiple study materials
This could be a huge mistake. Candidates often end up consuming a lot of data due to the fear of the NEET exam. They refer to multiple books for this. However, this is unimportant & is not required. Information from different sources can result in confusion during the exam. It is always best to stick with one source for proper recalling of the concepts. Since all NEET questions are based on Class 12 & 11 NCERT syllabi, students should prioritize NCERT books. Only after mastering concepts from this book, move on to relevant reference books.
NEET examination is mainly for Biology enthusiasts. Few candidates don't like Chemistry or Physics, however, it is a vital component of the NEET exam. Because of this preference, many students concentrate on mastering Biology alone & leave Chemistry & Physics. This has to be completely avoided. Even though Biology is a high weightage subject that can be easily scored, Chemistry & Physics sections determine the NEET rank. Therefore, give equal importance to all subjects and prepare all of them well.
Underestimating the use of technology  
Using markers & physical books is a conventional method of learning. Nowadays, there are ebooks, videos, online tutorials, blogs, and many others for NEET students to improve their learning techniques. NEET aspirants can check out these online sources for better understanding & performance in the exam. Exploit gadgets in a productive manner to enhance the learning experience.
Candidates often ignore seeking advice for proper NEET exam preparation during their secondary schooling. Teachers are aware of the important topics & exam models. Therefore, seeking advice from these professionals will help candidates in learning subjects thoroughly. Clarify all the doubts without any delay. Students can even refer to online sources for clearing their doubts. Coaching classes can also assist NEET aspirants in effectively preparing for the NEET exam.
Avoiding self-study methods
Each person has a unique way of learning things. Few students are good with concept retention whereas few others have good analytical skills or any other useful characteristics. Due to this distinctive feature, finding out a suitable learning approach is an indispensable part of NEET exam preparation. Creating one's own preparation method can help them in boosting their confidence & generating more favorable outcomes. Carefully think about the time & method that helps in understanding & retaining the topics best. Select this approach for the NEET exam preparation for better results.
Eleventh-hour preparation
Last-minute preparation is a huge mistake & NEET aspirants should avoid this at all costs. It is important to equally distribute preparation time for all the topics & subjects, which is impractical during the eleventh hour.  Candidates won't be able to clear the exam if they wait till the last minute to start their preparation. This can only result in stress & anxiety.
NEET is clearly an examination that requires proper time management. NEET aspirants often forget to master time management skills. Candidates with poor time management skills fall behind & won't be able to finish the NEET exam on time. Right from the preparation, students must set a time limit for answering Biology, Chemistry & Physics questions. Always stick to this limit while practicing mock tests and try to gradually improve accuracy & speed.
More perfection of fewer contents results in clearing off all the basics. For competitive examinations like NEET, one gets excited during the initial period & begins preparing well for the mock tests & sample papers. However, they often ignore the previously studied topics, & forget everything after getting good marks during the mock tests. Regular practice & constant revision is a must for a better outcome. If candidates get nervous during the exam, they will mostly blackout & forget all the things. It is better to remain calm for giving a better performance during the NEET exam.
Sticking to conventional approaches
Learning 24×7 for scoring the desired mark is an old perspective. Now, students are expected to understand concepts (even the basics of the concepts), perform wisely, and work smartly. This method can help students in achieving the expertise for future practice as well as get better scores for exams. Completing devoting one's life to NEET exam preparation without any sleep is considered archaic nowadays. Candidates are recommended to take up hobbies along with their studies, have short breaks during their sessions, and include regulated & good sleep schedules. These activities can help in concept retention & will reduce a lot of stress.
Regular practice is mandatory for all NEET aspirants who wish to clear the exam in the first go. Practicing is can potentially display excellent results & boost confidence during the actual exam. Answering previous year's papers can help candidates in getting a clear picture of the NEET exam pattern & questions. Candidates with zero practice will fail competitive exams like NEET without a doubt. With each practice, students learn their mistakes & acquire an in-depth understanding of the concepts. This can help them in answering any kind of twisted MCQs during the NEET exam.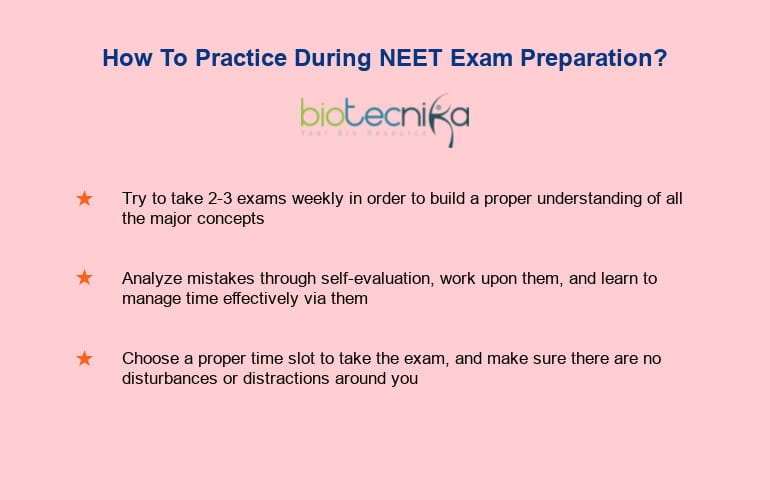 Sleeping less to study more
Many NEET candidates compromise their sleeping hours to study more. This is a common NEET exam mistake. This can lead to stress & lethargy. Both productivity & concentration skill is drastically affected by compromised sleeping hours. It is imperative to have a healthy sleeping time of at least 7 to 8 hours daily in order to focus better and wake up fresh with an energized brain. A hectic study plan is impractical in the long run. Even though many think that long study hours are better for covering the whole syllabus & scoring well, it is completely wrong. This can only result in fatigue & poor retention skills. In order to improve memory function & restore balance, the brain needs ample time for rejuvenation. This can be achieved by taking short breaks during the study sessions. Therefore, it is advised to never compromise one's relaxation, eating, or sleeping time. Prepare a timetable that covers everything with the NEET exam preparation.
Learning new things towards the end
Imbibing any new information during the last few months is the biggest mistake a NEET aspirant can do. This can result in loss of confidence & insignificant cramming. Professionals advise that NEET aspirants should never learn any new concepts towards the end of the preparation. They have to constantly revise whatever things they know so as to get a deeper understanding.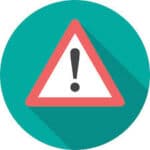 Common NEET Exam Mistakes On The Exam Day
As numerous candidates appear for the NEET exam throughout the country, test centers are scattered in different places. NEET aspirants should check & confirm the venue from their admit card before the exam day. Getting early for an exam gives an edge to the candidate. But, going to the wrong location & reaching the exam venue late can result in serious repercussions. This is a once-in-a-year opportunity for all NEET applicants. So, better be prepared for reaching the venue on time & correctly.
Not following the dress code
NEET students are given specific instructions about the dress code for the exam day. Any violations can result in disqualification. So, all candidates are advised to go through the NEET exam information bulletin and strictly follow all the rules & regulations mentioned in the bulletin.
Along with the dress code, there is a list of objects that are banned in the exam hall. Candidates need to remove all such prohibited items before entering the exam hall. As there are no arrangements for keeping the candidate's personal items, it is recommended not to bring any to the venue. Carrying any such banned item to the NEET exam hall is considered malpractice & candidature would be immediately canceled.
Rushing without proper reading
Rushing favors mistakes & significantly adds up a lot of negative marks for the NEET exam. Even though candidates can save some time by skipping complete reading of the question, it can cost them four marks. Incomplete reading is one of the common NEET exam mistakes that students make during the exam. Always remember to read each & every question scrupulously before choosing the answer. Candidates should give proper time for reading as well as answering NEET questions. The same has to be applied for identifying the keywords in the questions. Keywords like 'all' or 'none' basically determine the correct answer for the question. So, careful reading is essential for acing the NEET exam.
One of the common NEET exam mistakes made by NEET aspirants during the exam is not believing in their ability, strategies, or themselves. When candidates struggle with some questions, they need to remember that all other aspirants are facing the same situation. Lack of confidence is a huge obstacle to clearing the NEET exam. Proper preparation can boost candidates' confidence & makes them more positive about the exam. So, being confident can be a real game-changer for competitive exams like NEET.
Scared to make smart guesses
Even though taking risks is not recommended for exams with negative marking schemes like NEET, taking calculated ones can be influential for the success of the exam. For instance, blindly guessing the drug's half-life can lead to negative marks. However, smart guesses based on one's existing conceptual knowledge are worthy. Candidates are recommended to attempt as many MCQs as possible to get a decent rank in the NEET exam. But, it is risky to attempt that many questions. Therefore, students need to assure that the risks they take are based on their intelligent analysis & knowledge.
Taking a break during the exam 
NEET exam is generally conducted for three hours and each & every second is valuable for the candidates. Taking unnecessary breaks can drastically affect their performance during the NEET exam, thereby changing their rank. In order to avoid this, candidates are advised to reach the exam hall early.
Re-evaluation is a must after completing all the MCQs in the NEET exam. This can be done either by the end of the exam or before they mark the answer on the OMR sheet. At times, the initially computed answers might be wrong. So, students need to check & confirm the answer before bubbling the OMR answer sheet.
Too much confidence can also be a problem. Overconfident candidates make more mistakes than others. Blinded by the power of overconfidence, students overestimate the answering speed, fail to verify the answers & read the instruction properly. Bear in mind that overconfidence can result in loss of marks.
After figuring out all the answers, candidates need to carefully answer them on the OMR answer sheet. Subvocalizing can be really helpful to avoid any errors during bubbling. This can be done by saying the question number along with its option in the mind. This can avoid confusion while marking answers. Improper bubbling is a silly mistake but costs a lot of marks. Therefore, always fill in the answers carefully.
Miscellaneous calculation errors
NEET exam is mainly based on Biology, Chemistry, and Physics. Even though Chemistry & Biology sections are concept-based, Physics needs calculation as it consists of numerical. Candidates have a tendency to make miscellaneous mistakes during calculations due to lack of time or nervousness. This can be avoided with proper practice.
Mistakes while filling OMR sheet 
Candidates need to scrupulously read or listen to the instruction given before filling the OMR sheet for the NEET exam. Even the slightest error can cost a lot. Follow these instructions to avoid common NEET exam mistakes while filling the answer sheet.
Prior to filling the OMR sheet, candidates need to match the code of the test booklet & that of the OMR sheet given to them. If there is any difference, students to instantly report this to the examiner
Remember to sign & mention the time in the declaration column
Candidates need to write the correct name (Candidate's, their father's & mother's) in the specified boxes. Students should note that they need to write in running letters & not in capital letters
Students need to only fill the boxes which are asked to fill. Otherwise, it can lead to rejection of the OMR sheet
Candidates have to enter their test booklet number as well as their roll number in the specific box and bubble accordingly
Once marked or bubbled, no changes can be made. So, candidates need to carefully fill the answers
Remember to not scratch the OMR answer sheet. Also do not tear it in any way
Since OMR answer sheets are evaluated with computer software, candidates need to circle the bubble properly for the software to detect the answer
NEET exam preparation is not an overnight task. One has to reinforce their base right from the start to avoid stress & mess. Candidates jot down notes from all the topics, seek assistance from teachers/seniors/friends, mark the high-weightage topics, improve their performance & skills, and maintain a balance between academics & personal life.
All NEET aspirants have to initially prepare their inner self prior to their preparation. Hurdles are an obvious part of a journey filled with challenges. Each step opens up a new hurdle in the form of difficult topics, concepts, clarifications, or doubts. The ultimate difference can be brought by successfully addressing these obstacles.
These errors are common for any NEET aspirants. They simply need to assess themselves, identify the mistake & resolve it. If at all things do not go the intended way, here is a pro tip- Let go of all the negativity, be confident, chill, and smile.
---
Common NEET Exam Mistakes
Also Read: